Immobilization of Burkholderia cepacia Lipase: Kinetic Resolution in Organic Solvents, Ionic Liquids and in Their Mixtures
Hara, Piia (2011-09-23)
---
Immobilization of Burkholderia cepacia Lipase: Kinetic Resolution in Organic Solvents, Ionic Liquids and in Their Mixtures
(23.09.2011)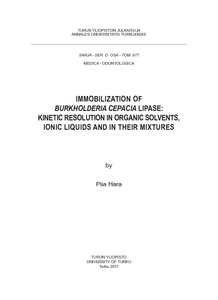 Annales Universitatis Turkuensis A D 977 Turun yliopisto
Julkaisun pysyvä osoite on:
https://urn.fi/URN:ISBN:978-951-29-4721-8
Kuvaus
Siirretty Doriasta
Tiivistelmä
Immobilization of Burkholderia cepacia Lipase: Kinetic Resolution in Organic Solvents, Ionic Liquids and in Their Mixtures

Biocatalysis opens the door to green and sustainable processes in synthetic chemistry allowing the preparation of single enantiomers, since the enzymes are chiral and accordingly able to catalyze chemical reactions under mild conditions. Immobilization of enzymes enhances process robustness, often stabilizes and activates the enzyme, and enables reuse of the same enzyme preparation in multiple cycles. Although hundreds of variations of immobilization methods exist, there is no universal method to yield the highly active, selective and stable enzyme catalysts. Therefore, new methods need to be developed to obtain suitable catalysts for different substrates and reaction environments.

Lipases are the most widely used enzymes in synthetic organic chemistry. The literature part together with the experimental part of this thesis discusses of the effects of immobilization methods mostly used to enhance lipase activity, stability and enantioselectivity. Moreover, the use of lipases in the kinetic resolution of secondary alcohols in organic solvents and in ionic liquids is discussed.

The experimental work consists of the studies of immobilization of Burkholderia cepacia lipase (lipase PS) using three different methods: encapsulation in sol-gels, cross-linked enzyme aggregates (CLEAs) and supported ionic liquids enzyme catalysts (SILEs). In addition, adsorption of lipase PS on celite was studied to compare the results obtained with sol-gels, CLEAs and SILEs. The effects of immobilization on enzyme activity, enantioselectivity and hydrolysis side reactions were studied in kinetic resolution of three secondary alcohols in organic solvents, in ionic liquids (ILs), and in their mixtures. Lipase PS sol-gels were shown to be active and stable catalysts in organic solvents and solvent:IL mixtures. CLEAs and SILEs were highly active and enantioselective in organic solvents. Sol-gels and SILEs were reusable in several cycles. Hydrolysis side reaction was suppressed in the presence of sol-gels and CLEAs.