Targeting of caries prevention at preschool children, a practice based study
Meurman, Pia (2011-10-07)
---
Targeting of caries prevention at preschool children, a practice based study
(07.10.2011)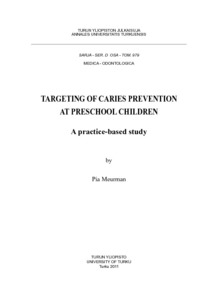 Annales Universitatis Turkuensis D 979 Turun yliopisto
Julkaisun pysyvä osoite on:
https://urn.fi/URN:ISBN:978-951-29-4733-1
Kuvaus
Siirretty Doriasta
Tiivistelmä
Aim and design: To evaluate an oral health program directed to expecting families and their children. The intervention was carried out in one of the four health care areas of the city of Turku. Another area acted as a control.

Subjects and methods: Children (n = 1217), born between January 1, 1998 and June 30, 1999, in the respective health care areas were screened for mutans streptococci bacteria (MS), and their caretakers were interviewed when the child was 18 months old. MScolonization was used as the child's risk indicator. Intensified health education and the use of xylitol lozenges targeted at the children at risk were the main elements of the program. Controls and the non-MS-colonized children received routine prevention –examination and education at the ages of three and five years. Altogether 794 subjects were followed for 42 months after receiving consent from their caretakers. Associations of oral-health-related factors with MS colonization and caries increment were studied inside the control group.

Results: MS colonization associated with the occupation of the caretaker and ethnicity. The program was effective in white-collar families; prevented fraction being 67 %. In blue-collar families no effect was achieved. At the age of five years, caries increment was strongly related to the occupation of the caretaker, MS at 18 months, child's sugar use, night feeding, use of thirst quencher at the age of 18 months, and father's reported oral health.

Conclusions: Programs targeted at MS-colonized children can reduce caries in whitecollar families. A program mainly based on activity at home seems to favor white-collar families, whereas different kind of support is needed for the blue-collar families.