Leptogenesis as the origin of matter-antimatter asymmetry in extra dimensional and supersymmetric models
Kuismanen, Heidi (2011-10-01)
---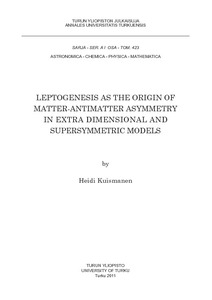 Turun yliopisto Annales Universitatis Turkuensis A I 423
01.10.2011
Julkaisun pysyvä osoite on:
http://urn.fi/URN:ISBN:978-951-29-4697-6
Kuvaus
Siirretty Doriasta
Tiivistelmä
The Standard Model of particle physics is currently the best description of fundamental particles and their interactions. All particles save the Higgs boson have been observed in particle accelerator experiments over the years. Despite the predictive power the Standard Model there are many phenomena that the scenario does not predict or explain. Among the most prominent dilemmas is matter-antimatter asymmetry, and much effort has been made in formulating scenarios that accurately predict the correct amount of matter-antimatter asymmetry in the universe. One of the most appealing explanations is baryogenesis via leptogenesis which not only serves as a mechanism of producing excess matter over antimatter but can also explain why neutrinos have very small non-zero masses.

Interesting leptogenesis scenarios arise when other possible candidates of theories beyond the Standard Model are brought into the picture. In this thesis, we have studied leptogenesis in an extra dimensional framework and in a modified version of supersymmetric Standard Model. The first chapters of this thesis introduce the standard cosmological model, observations made on the photon to baryon ratio and necessary preconditions for successful baryogenesis. Baryogenesis via leptogenesis is then introduced and its connection to neutrino physics is illuminated. The final chapters concentrate on extra dimensional theories and supersymmetric models and their ability to accommodate leptogenesis. There, the results of our research are also presented.