Upconverting Phosphor Technology: Exceptional Photoluminescent Properties Light Up Homogeneous Bioanalytical Assays
Riuttamäki, Terhi (2011-10-14)
---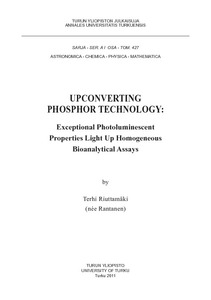 Turun yliopisto Annales Universitatis Turkuensis A I 427
14.10.2011
Julkaisun pysyvä osoite on:
http://urn.fi/URN:ISBN 978-951-29-4743-0
Kuvaus
Siirretty Doriasta
Tiivistelmä
The aim of the present study was to demonstrate the wide applicability of the novel photoluminescent labels called upconverting phosphors (UCPs) in proximity-based bioanalytical assays. The exceptional features of the lanthanide-doped inorganic UCP compounds stem from their capability for photon upconversion resulting in anti-Stokes photoluminescence at visible wavelengths under near-infrared (NIR) excitation. Major limitations related to conventional photoluminescent labels are avoided, rendering the
UCPs a competitive next-generation label technology. First, the background luminescence is minimized due to total elimination of autofluorescence. Consequently, improvements in detectability are expected. Second, at the long wavelengths (>600 nm) used for exciting and detecting the UCPs, the transmittance of sample matrixes is significantly greater in comparison with shorter wavelengths. Colored samples are no longer an obstacle to the luminescence measurement, and more flexibility is allowed even in homogeneous assay concepts, where the sample matrix remains present during the entire analysis procedure, including label detection.

To transform a UCP particle into a biocompatible label suitable for bioanalytical assays, it must be colloidal in an aqueous environment and covered with biomolecules capable of recognizing the analyte molecule. At the beginning of this study, only UCP bulk material was available, and it was necessary to process the material to submicrometer-sized particles prior to use. Later, the ground UCPs, with irregular shape, wide size-distribution and heterogeneous luminescence properties, were substituted by a smaller-sized spherical UCP material. The surface functionalization of the UCPs was realized by producing a thin hydrophilic coating. Polymer adsorption on the UCP surface is a simple way to introduce functional groups for bioconjugation purposes, but possible stability issues encouraged us to optimize an optional silica-encapsulation method which produces a coating that is not detached in storage or assay conditions. An extremely thin monolayer around the UCPs was pursued due to their intended use as short-distance energy donors, and much attention was paid to controlling the thickness of the coating.

The performance of the UCP technology was evaluated in three different homogeneous resonance energy transfer-based bioanalytical assays: a competitive ligand binding assay, a hybridization assay for nucleic acid detection and an enzyme activity assay. To complete the list, a competitive immunoassay has been published previously. Our systematic investigation showed that a nonradiative energy transfer mechanism is indeed involved, when a UCP and an acceptor fluorophore are brought into close proximity in aqueous suspension. This process is the basis for the above-mentioned homogeneous assays, in which the distance between the fluorescent species depends on a specific biomolecular binding event. According to the studies, the submicrometer-sized UCP labels allow versatile proximity-based bioanalysis with low detection limits (a low-nanomolar concentration for biotin, 0.01 U for benzonase enzyme, 0.35 nM for target DNA sequence).