Metabolic syndrome – early cardio-metabolic, vascular and hepatic changes
Koskinen, Juha (2011-11-12)
---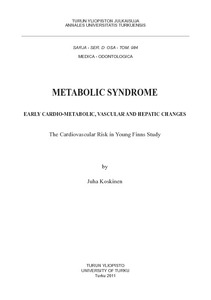 Annales Universitatis Turkuensis D 984 Turun yliopisto
12.11.2011
Julkaisun pysyvä osoite on:
http://urn.fi/URN:ISBN:978-951-29-4761-4
Kuvaus
Siirretty Doriasta
Tiivistelmä
Background: Metabolic syndrome (MetS) is a combination of several cardio-metabolic risk factors including obesity, hyperglycemia, hypertension and dyslipidemia. MetS has been associated with increased levels of apolipoprotein B (apoB) and low-density lipoprotein oxidation (OxLDL) and with an increased risk of cardiovascular disease and non-alcoholic fatty liver disease.

Aims: To establish the relation of apoB and OxLDL with the MetS development and to determine the status of MetS as a risk factor for adverse liver changes and for subclinical atherosclerosis.

Subjects and Methods: The present thesis is part of the two large scale population-based, prospective, observational studies. Cardiovascular Risk in Young Finns study was launched in 1980 including 3,596 subjects aged 3-18 years. Thereafter follow-up studies have been conducted regularly. In the latest follow-ups that were performed in 2001 (N=2,283) and 2007 (N=2,204), non-invasive ultrasound studies were introduced to the study protocol to measure subclinical atherosclerosis i.e. carotid intima-media thickness (IMT), carotid artery distensibility (Cdist) and brachial flow-mediated dilatation (FMD). Alanine-aminotransferase (ALT) and gammaglutamyltransferase (GGT) were measured in 2007 to assess liver function. The Bogalusa Heart Study is a long-term epidemiologic study of cardiovascular risk factors launched in 1972 in a biracial community of Bogalusa, Louisiana, USA. Total of 374 youths (aged 9-18 years at baseline in 1984-88) who underwent non-invasive ultrasound studies of the carotid artery as adults, were included in the analyses of the present thesis.

Results: The odds ratios (95% confidence intervals) for MetS incidence during a 6-year follow-up by quartiles of apoB were 2.0(1.0-3.8) for the second quartile, 3.1(1.7-5.7) for the third quartile and 4.2(2.3-7.6) for the fourth quartile. OxLDL was not independently associated with incident MetS. Youth (aged 9-18 years) with MetS or with high body mass index were at 2-3 times the risk of having MetS, high IMT, and type 2 diabetes 24-years later as adults. IMT increased 79±7μm (mean±SEM) in subjects with MetS and 42±2μm in subjects without the MetS (P<0.0001) during 6- years. Subjects who lost the MetS diagnosis during 6-year follow-up had reduced IMT progression compared to persistent MetS group (0.036±0.005vs.0.079±0.010 mm, P=0.001) and reduced Cdist change compared to incident MetS group (-0.12±0.05vs.-0.38±0.10 %/mmHg, P=0.03) over 6-year follow-up. MetS predicted elevated ALT (β±SEM=0.380±0.052, P<0.0001 in men and 0.160±0.052, P=0.002 in women) and GGT (β±SEM=0.240±0.058, P<0.0001 in men and 0.262±0.053, P<0.0001 in women) levels after 6-years.

Conclusions: These findings suggest that apoB may give additional information on early metabolic disturbances predisposing MetS. MetS may be used to identify individuals at increased risk of developing atherosclerosis and non-alcoholic liver disease. However, recovery from the MetS may have positive effects on liver and vascular properties.