Notes on Emerging Technologies
Suominen, Arho (2011-11-11)
---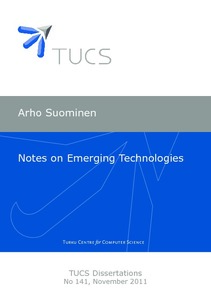 Turku Centre for Computer Science
11.11.2011
Julkaisun pysyvä osoite on:
http://urn.fi/URN:ISBN:978-952-12-2647-2
Kuvaus
Siirretty Doriasta
Tiivistelmä
This dissertation considers the impact of technology foresight in innovation within the context of a technology driven development. The main hypothesis made was that by using different methods of foresight in the industry level significant value could be created. The question was approached through a case study in portable fuel cell technology.

The theoretical background of the study draws from Innovation, Product Development, Management of Technology, and Technology Foresight. The connection within the topics is made by analyzing foresight, not in a policy view as often done in Europe, but in a micro-level. Focusing mostly on how a technology driven development scenario could be analyzed. The study is based on a bibliometric, extrapolation and patent analysis within the context of a case study. In addition, a large two-year Delphi study was conducted. The study was finalized with a scenario work on the future possibilities of the case study technology. Original publications also consider several methodological issues.

In the context of the case study, the study questions the practicality of establishing a portable fuel cell technology in Finland showing several impractical assumptions has been made. In a more conceptual level, the study makes notions on two underlying factors: policy-push technologies and growth of data.

Policy-push questions in which level a policy effort towards a single technology is practical. The European foresight effort is more directed towards policy decisions in contrast to US foresight, which is to some extent corporate driven. Although the policy-based foresight has produced significant results in the European context, policy led efforts towards a single technology are challenging.

Growth of data argues on the challenges produced by the large-scale application of quantitative measures of foresight. Bibliometric studies and trend extrapolations have been taken advantage of the increasing number of databases made available, and used these as the basis for forecasts. However, the relationship with actual development and quantitative evidence is still unproven.