Exiles and Constituents: Baltic Refugees and American Cold War Politics, 1948- 1960
L'Hommedieu, Jonathan H (2011-11-19)
---
Exiles and Constituents: Baltic Refugees and American Cold War Politics, 1948- 1960
(19.11.2011)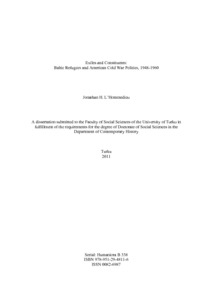 Turun yliopisto Annales Universitatis Turkuensis B 338
Julkaisun pysyvä osoite on:
https://urn.fi/URN:ISBN:978-951-29-4811-6
Kuvaus
Siirretty Doriasta
Tiivistelmä
This dissertation explores the complicated relations between Estonian, Latvian, and Lithuanian postwar refugees and American foreign policymakers between 1948 and 1960. There were seemingly shared interests between the parties during the first decade of the Cold War. Generally, Eastern European refugees refused to recognize Soviet hegemony in their homelands, and American policy towards the Soviet bloc during the Truman and Eisenhower administrations sought to undermine the Kremlin's standing in the region. More specifically, Baltic refugees and State Department officials sought to preserve the 1940 non-recognition policy towards the Soviet annexation of the Baltic States. I propose that despite the seemingly natural convergence of interests, the American experiment of constructing a State-Private network revolving around fostering relations with exile groups was fraught with difficulties. These difficulties ultimately undermined any ability that the United States might have had to liberate the Baltic States from the Soviet Union.

As this dissertation demonstrates, Baltic exiles were primarily concerned with preserving a high level of political continuity to the interwar republics under the assumption that they would be able to regain their positions in liberated, democratic societies. American policymakers, however, were primarily concerned with maintaining the non-recognition policy, the framework in which all policy considerations were analyzed. I argue that these two motivating factors created unnecessary tensions in American policy towards the Baltic republics in the spheres of psychological warfare as well as exile unity in the United States and Europe.

Despite these shortcomings, I argue that out of the exiles' failings was born a generation of Baltic constituents that blurred the political legitimacy line between exiles who sought to return home and ethnic Americans who were loyal to the United States. These Baltic constituents played an important role in garnering the support of the United States Congress, starting in the 1950s, but became increasingly influential after the 1956 Hungarian Revolution, despite the seemingly less important role Eastern Europe played in the Cold War. The actions of the Baltic constituents not only prevented the Baltic question from being forever lost in the memory hole of history, but actually created enough political pressure on the State Department that it was impossible to alter the long-standing policy of not recognizing the Soviet annexation of the Baltic States.