Characterization of novel genes predominantly expressed in the epididymis – from genome analyses to genetically modified mice
Turunen, Heikki (2011-11-18)
---
Characterization of novel genes predominantly expressed in the epididymis – from genome analyses to genetically modified mice
(18.11.2011)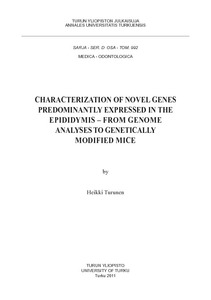 Annales Universitatis Turkuensis D 992 Turun yliopisto
Julkaisun pysyvä osoite on:
https://urn.fi/URN:ISBN:978-951-29-4799-7
Kuvaus
Siirretty Doriasta
Tiivistelmä
In mammals, post-testicular sperm maturation taking place in the epididymis is required for the spermatozoa to acquire the abilities required to fertilize the egg in vivo. The epididymal epithelial cells secrete proteins and other small molecules into the lumen, where they interact with the spermatozoa and enable necessary maturational changes. In this study different in silico, in vitro and in vivo approaches were utilized in order to find novel genes responsible for the function of the epididymis and post-testicular sperm maturation in the mouse. Available online genomic databases were analyzed to identify genes potentially expressed in the epididymis, gene expression profiling was performed by studying their expression in different mouse tissues, and significance of certain genes to fertility was assessed by generating genetically modified mouse models. A recently discovered Pate (prostate and testis expression) gene family was found to be predominantly expressed in the epididymis. It represents one of the largest known gene families expressed in the epididymis, and the members code for proteins potentially involved in defense against microorganisms. Through genetically modified mouse models CRISP4 (cysteine-rich secretory protein 4) was identified to regulate sperm acrosome reaction, and BMYC to inhibit the expression of the Myc proto-oncogene in the developing testis. A mouse line expressing iCre recombinase specifically in the epididymis was also generated. This model can be used to generate conditional, epididymis-specific knock-out models, and will be a valuable tool in fertility studies.