Exploring Adaptive Implementation of On-Chip Networks
Daneshtalab, Masoud (2011-11-25)
---
Exploring Adaptive Implementation of On-Chip Networks
(25.11.2011)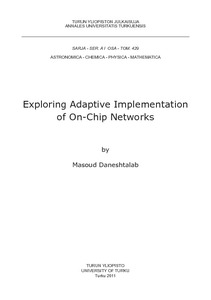 Turun yliopisto Annales Universitatis Turkuensis A I 429
Julkaisun pysyvä osoite on:
https://urn.fi/URN:ISBN:978-951-29-4787-4
Kuvaus
Siirretty Doriasta
Tiivistelmä
As technology geometries have shrunk to the deep submicron regime, the communication delay and power consumption of global interconnections in high performance Multi- Processor Systems-on-Chip (MPSoCs) are becoming a major bottleneck. The Network-on- Chip (NoC) architecture paradigm, based on a modular packet-switched mechanism, can address many of the on-chip communication issues such as performance limitations of long interconnects and integration of large number of Processing Elements (PEs) on a chip. The choice of routing protocol and NoC structure can have a significant impact on performance and power consumption in on-chip networks. In addition, building a high performance, area and energy efficient on-chip network for multicore architectures requires a novel on-chip router allowing a larger network to be integrated on a single die with reduced power consumption. On top of that, network interfaces are employed to decouple computation resources from communication resources, to provide the synchronization between them, and to achieve backward compatibility with existing IP cores.

Three adaptive routing algorithms are presented as a part of this thesis. The first presented routing protocol is a congestion-aware adaptive routing algorithm for 2D mesh NoCs which does not support multicast (one-to-many) traffic while the other two protocols are adaptive routing models supporting both unicast (one-to-one) and multicast traffic. A streamlined on-chip router architecture is also presented for avoiding congested areas in 2D mesh NoCs via employing efficient input and output selection. The output selection utilizes an adaptive routing algorithm based on the congestion condition of neighboring routers while the input selection allows packets to be serviced from each input port according to its congestion level. Moreover, in order to increase memory parallelism and bring compatibility with existing IP cores in network-based multiprocessor architectures, adaptive network interface architectures are presented to use multiple SDRAMs which can be accessed simultaneously. In addition, a smart memory controller is integrated in the adaptive network interface to improve the memory utilization and reduce both memory and network latencies.

Three Dimensional Integrated Circuits (3D ICs) have been emerging as a viable candidate to achieve better performance and package density as compared to traditional 2D ICs. In addition, combining the benefits of 3D IC and NoC schemes provides a significant performance gain for 3D architectures. In recent years, inter-layer communication across multiple stacked layers (vertical channel) has attracted a lot of interest. In this thesis, a novel adaptive pipeline bus structure is proposed for inter-layer communication to improve the performance by reducing the delay and complexity of traditional bus arbitration. In addition, two mesh-based topologies for 3D architectures are also introduced to mitigate the inter-layer footprint and power dissipation on each layer with a small performance penalty.