Metsäsääntely Suomessa ja Venäjällä. Näkökulmia kestävään metsätalouteen
Pappila, Minna (2011-12-10)
---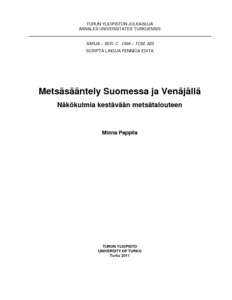 Turun yliopisto
10.12.2011
Julkaisun pysyvä osoite on:
http://urn.fi/URN:ISBN:978-951-29-4810-9
Kuvaus
Siirretty Doriasta
Tiivistelmä
Sustainability is the aim of forest management and forest regulation in many countries. Accordingly, forest management has been steered towards more environmentally friendly methods and new regulatory instruments have been introduced. At the same time, wood trade and forest industry have become a global business. Even if the importance of national forest legislation has not decreased, it has been widely acknowledged that national regulation of forest management is no longer sufficient. The movement of goods does not acknowledge boundaries, even though most negative environmental and social consequences stay in the country of origin of wood and other raw materials. As a partial solution to this dilemma, different kinds of regulations have been developed. Various forest certification schemes and wood trade regulation in the EU (995/2010) are examples of efforts to prevent illegal logging and unsustainable forestry.

The Finland-based forest industry is to a varying extent dependent on wood trade from Russia. Especially in the 1990"s, ethical questions concerning import of wood from Russian old growth forests near the Finnish border were widely discussed. Consequently, forest industry enterprises have developed systems to trace the origin of wood and to buy certified wood from Russia.
The aim of the research has been to evaluate Finnish and Russian forest regulations in order to investigate what kind of forest management these regulations enhance, and to what extent ecologically sustainable forest management has been integrated into different forms of regulation. I have examined Finnish and Russian forest regulation in four separate articles based on the topics of the Russian Forest Code, forest certification and other voluntary forest protection measures in Russia, Finnish forest certification and Finnish forest legislation. One objective has been to analyse the roles voluntary forest certification plays in promoting sustainable forest management in different countries. In my research, I have mainly concentrated on ecological sustainability and protection of biodiversity, although other aspects of sustainable forest management have been touched upon in different articles. In the following I shall conclude the findings of my research.

When the current Russian Forest Code (2006) was being adopted, the main emphasis was not on ecological issues, but on reorganizing forest governance. The role of ecological requirements was even slightly diminished during the legislative reform. There are, nevertheless, still stipulations aiming at ecological sustainability, such as the division of forests into different forest management categories and various protection zones. In 2000, FSC forest certification arrived in Russia, at present covering already 28 million hectares of forests. The PEFC scheme is now in use as well, but to a much lesser extent. If properly implemented, Russian forest certification schemes clearly improve the level of ecological and social sustainability of forestry in Russia. Certification criteria, however, are partly in conflict with the Russian forest legislation and certified enterprises have been forced to pay fines or to negotiate with forest authorities. This clearly indicates that even if Russian forest legislation has otherwise been liberalized to a certain extent, some significant paternalism still exists. Voluntary, hands-on biodiversity protection measures are not valued, and they are not part of the official protection policies as in many other countries. However, there have been some regional solutions to this dilemma. In the Republic of Karelia forest authorities have approved a set of forest biodiversity protection rules created by a local NGO and a forest industry enterprise. By following these local rules, an enterprise can avoid fines for protection measures.

The current Finnish Forest Act was adopted in 1996. It brought forest legislation into a new era as some ecological aspects were integrated into forest legislation. The various soft-law forest management recommendations further increased the level of biodiversity protection. My evaluation of the overall legitimacy of the Finnish forest legislation and forest management paradigm revealed, however, several problematic issues. As part of this study I analysed the history of the current forest management paradigm. This analysis revealed the path dependency which still hinders the protection of biodiversity and clearly decreases the general legitimacy of forest management. Due to several historical reasons only even-structured forest management based on clear cuts has for decades been officially approved in Finland. Due to increasing demands of forest owners the legislation is finally being revised. Yet, the official approval of uneven-structured forest management would not be enough to fully improve ecological, social and cultural legitimacy. The latest ecological theories and knowledge of endangered species should be taken into account in the on-going reform of forest legislation as well as the modernisation. Forest legislation is one of the very few spheres of Finnish environmental legislation where openness and participation are still considered a threat.

The first Finnish forest certification scheme, PEFC, was established in 2000. It now covers more than 20 million hectares, about 95% of the forests in Finland. PEFC Finland does not require a higher level of biodiversity protection than the recommendations by Tapio (the Development Centre for Forestry), but certification has unified forest management practices and requires more protection measures than mere forest legislation. The study suggests that in Finland PEFC has not functioned as an instrument which would substantially improve the level of forest management. Rather it has supported the status quo of the forest sector.

While the ecological and social responsibility of Finland-based forest corporations was one impetus for this research, I want to conclude that there are problems related to forest legislation and non-state regulation in both Finland and Russia. If an enterprise buying wood from Russia buys only certified wood, and carefully avoids wood coming from high conservation value forests that are either ecologically or socially valuable, it can be claimed to be as sustainably produced as in Finland. However, there must be continuous scrutiny of the circumstances. In Russia, the level of the compliance of certification criteria varies considerably, and there are vast unprotected invaluable forest areas. The utilisation of these areas should not be based on short-sighted decisions or lack of consensus among stakeholders.