PET and MR imaging in Parkinson's disease patients with cognitive impairment. A study of dopaminergic dysfunction, amyloid deposition, cortical hypometabolism and brain atrophy
Jokinen, Pekka (2011-12-09)
---
PET and MR imaging in Parkinson's disease patients with cognitive impairment. A study of dopaminergic dysfunction, amyloid deposition, cortical hypometabolism and brain atrophy
(09.12.2011)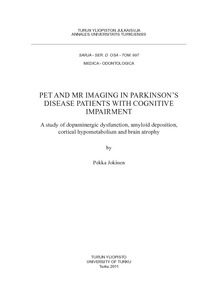 Annales Universitatis Turkuensis A D 977 Turun yliopisto
Julkaisun pysyvä osoite on:
https://urn.fi/URN:ISBN:978-951-29-4836-9
Kuvaus
Siirretty Doriasta
Tiivistelmä
Parkinson's disease (PD) is the second most common neurodegenerative disorder. It is characterized by a severe loss of substantia nigra dopaminergic neurons leading to dopamine depletion in the striatum. PD affects movement, producing motor symptoms such as rigidity, tremor and bradykinesia. Non-motor symptoms include autonomic dysfunction, neurobehavioral problems and cognitive impairment, which may lead to dementia. The pathophysiological basis of cognitive impairment and dementia in PD is unclear.

The aim of this thesis was to study the pathophysiological basis of cognitive impairment and dementia in PD. We evaluated the relation between frontostriatal dopaminergic dysfunction and the cognitive symptoms in PD patients with [18F]Fdopa PET. We also combined [C]PIB and [18F]FDG PET and magnetic resonance imaging in PD patients with and without dementia. In addition, we analysed subregional striatal [18F]Fdopa PET data to find out whether a simple ratio approach would reliably separate PD patients from healthy controls. The impaired dopaminergic function of the frontostriatal regions was related to the impairment in cognitive functions, such as memory and cognitive processing in PD patients. PD patients with dementia showed an impaired glucose metabolism but not amyloid deposition in the cortical brain regions, and the hypometabolism was associated with the degree of cognitive impairment. PD patients had atrophy, both in the prefrontal cortex and in the hippocampus, and the hippocampal atrophy was related to impaired memory. A single 15-min scan 75 min after a tracer injection seemed to be sufficient for separating patients with PD from healthy controls in a clinical research environment. In conclusion, the occurrence of cognitive impairment and dementia in PD seems to be multifactorial and relates to changes, such as reduced dopaminergic activity, hypometabolism, brain atrophy and rarely to amyloid accumulation.