Rural Food System Change in Tanzania during the Post-Ujamaa Era. A Case Study from Western Bagamoyo District
Haapanen, Toni (2011-12-13)
---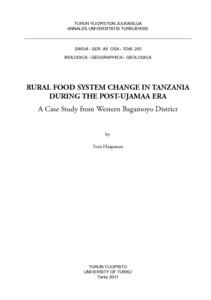 Turun yliopisto Annales Universitatis Turkuensis A II 265
13.12.2011
Julkaisun pysyvä osoite on:
http://urn.fi/URN:ISBN:978-951-29-4848-2
Kuvaus
Siirretty Doriasta
Tiivistelmä
Food systems in Sub-Saharan Africa have been rapidly transforming during the recent decades with diverse outcomes on human development and environment. This study explores the food system change in rural villages in eastern Tanzania where subsistence agriculture has traditionally been the main source of livelihood. The focus is on the salient changes in the spatial dimensions and structural composition of the food system in the context of economic liberalization that has taken place after the end of the socialist ujamaa era in the mid-1980s. In addition, the linkages of the changes are examined in relation to food security, socio-economic situation, livelihoods, and local environment.

The approach of the study is geographical, but also involves various multi-disciplinary elements, particularly from development studies. The research methods included thematic and questionnaire interviews, participatory tools, and the analysis of land use/ cover data and official documents. Several earlier studies that were made in the area during the late 1970s and 1980s provided an important reference base. The study shows that subsistence farming has lost its dominant role in food provisioning due to the declining productivity of land, livestock losses, and the increasing shift of labour to non-farm sectors. Also rapid population growth has added to the pressure on land and other natural resources. Despite the increasing need for money for buying marketed foods and other necessities, the nutritional situation shows improvement and severe malnutrition has diminished.

However, the long-term sustainability of this transformation raises concerns. Firstly, the food security situation continues to be fragile and prone to shocks such as adverse climatic conditions, crop failures and price hikes. Secondly, the commodification of the food system and livelihoods in general is linked to rapid environmental degradation in the area, particularly the loss of soil fertility and deforestation. The situation calls for efforts that take more determined and holistic approaches towards sustainable development of the rural food system with particular focus on the role and viability of small-scale farming.