Lipotoxicity in Obesity and Coronary Artery Disease. Studies by PET, CT and MR
Bucci, Marco (2011-12-17)
---
Lipotoxicity in Obesity and Coronary Artery Disease. Studies by PET, CT and MR
(17.12.2011)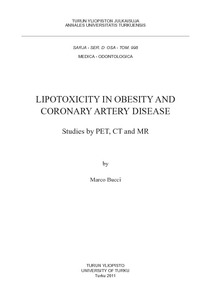 Annales Universitatis Turkuensis D 998 Turun yliopisto
Julkaisun pysyvä osoite on:
https://urn.fi/URN:ISBN:978-951-29-4840-6
Kuvaus
Siirretty Doriasta
Tiivistelmä
Lipotoxicity is a condition in which fatty acids (FAs) are not efficiently stored in adipose tissue and overflow to non-adipose tissue, causing organ damages. A defect of adipose tissue FA storage capability can be the primary culprit in the insulin resistance condition that characterizes many of the severe metabolic diseases that affect people nowadays. Obesity, in this regard, constitutes the gateway and risk factor of the major killers of modern society, such as cardiovascular disease and cancer. A deep understanding of the pathogenetic mechanisms that underlie obesity and the insulin resistance syndrome is a challenge for modern medicine. In the last twenty years of scientific research, FA metabolism and dysregulations have been the object of numerous studies. Development of more targeted and quantitative methodologies is required on one hand, to investigate and dissect organ metabolism, on the other hand to test the efficacy and mechanisms of action of novel drugs. The combination of functional and anatomical imaging is an answer to this need, since it provides more understanding and more information than we have ever had. The first purpose of this study was to investigate abnormalities of substrate organ metabolism, with special reference to the FA metabolism in obese drug-naïve subjects at an early stage of disease. Secondly, trimetazidine (TMZ), a metabolic drug supposed to inhibit FA oxidation (FAO), has been for the first time evaluated in obese subjects to test a whole body and organ metabolism improvement based on the hypothesis that FAO is increased at an early stage of the disease. A third objective was to investigate the relationship between ectopic fat accumulation surrounding heart and coronaries, and impaired myocardial perfusion in patients with risk of coronary artery disease (CAD). In the current study a new methodology has been developed with PET imaging with 11C-palmitate and compartmental modelling for the non-invasive in vivo study of liver FA metabolism, and a similar approach has been used to study FA metabolism in the skeletal muscle, the adipose tissue and the heart. The results of the different substudies point in the same direction. Obesity, at the an early stage, is associated with an impairment in the esterification of FAs in adipose tissue and skeletal muscle, which is accompanied by the upregulation in skeletal muscle, liver and heart FAO. The inability to store fat may initiate a cascade of events leading to FA oversupply to lean tissue, overload of the oxidative pathway, and accumulation of toxic lipid species and triglycerides, and it was paralleled by a proportional growth in insulin resistance. In subjects with CAD, the accumulation of ectopic fat inside the pericardium is associated with impaired myocardial perfusion, presumably via a paracrine/vasocrine effect. At the beginning of the disease, TMZ is not detrimental to health; on the contrary at the single organ level (heart, skeletal muscle and liver) it seems beneficial, while no relevant effects were found on adipose tissue function. Taken altogether these findings suggest that adipose tissue storage capability should be preserved, if it is not possible to prevent excessive fat intake in the first place.