Novel CO2 Regulated Proteins in Synechocystis PCC 6803
Carmel, Dalton (2011-12-16)
---
Novel CO2 Regulated Proteins in Synechocystis PCC 6803
(16.12.2011)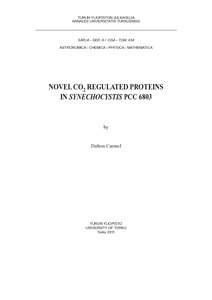 Turun yliopisto Annales Universitatis Turkuensis A I 434
Julkaisun pysyvä osoite on:
https://urn.fi/URN:ISBN:978-951-29-4853-6
Kuvaus
Siirretty Doriasta
Tiivistelmä
The large biodiversity of cyanobacteria together with the increasing genomics and proteomics metadata provide novel information for finding new commercially valuable metabolites. With the advent of global warming, there is growing interest in the processes that results in efficient CO2 capture through the use of photosynthetic microorganisms such as cyanobacteria. This requires a detailed knowledge of how cyanobacteria respond to the ambient CO2. My study was aimed at understanding the changes in the protein profile of the model organism, Synechocystis PCC 6803 towards the varying CO2 level. In order to achieve this goal I have employed modern proteomics tools such as iTRAQ and DIGE, recombinant DNA techniques to construct different mutants in cyanobacteria and biophysical methods to study the photosynthetic properties. The proteomics study revealed several novel proteins, apart from the well characterized proteins involved in carbon concentrating mechanisms (CCMs), that were upregulated upon shift of the cells from high CO2 concentration (3%) to that in air level (0.039%). The unknown proteins, Slr0006 and flavodiiron proteins (FDPs) Sll0217-Flv4 and Sll0219-Flv2, were selected for further characterization. Although slr0006 was substantially upregulated under Ci limiting conditions, inactivation of the gene did not result in any visual phenotype under various environmental conditions indicating that this protein is not essential for cell survival. However, quantitative proteomics showed the induction of novel plasmid and chromosome encoded proteins in deltaslr0006 under air level CO2 conditions. The expression of the slr0006 gene was found to be strictly dependent on active photosynthetic electron transfer. Slr0006 contains conserved dsRNA binding domain that belongs to the Sua5/YrdC/YciO protein family. Structural modelling of Slr0006 showed an alpha/beta twisted open-sheet structure and a positively charged cavity, indicating a possible binding site for RNA. The 3D model and the co-localization of Slr0006 with ribosomal subunits suggest that it might play a role in translation or ribosome biogenesis. On the other hand, deletions in the sll0217-sll218- sll0219 operon resulted in enhanced photodamage of PSII and distorted energy transfer from phycobilisome (PBS) to PSII, suggesting a dynamic photoprotection role of the operon. Constructed homology models also suggest efficient electron transfer in heterodimeric Flv2/Flv4, apparently involved in PSII photoprotection. Both Slr0006 and FDPs exhibited several common features, including negative regulation by NdhR and ambiguous cellular localization when subjected to different concentrations of divalent ions. This strong association with the membranes remained undisturbed even in the presence of detergent or high salt. My finding brings ample information on three novel proteins and their functions towards carbon limitation. Nevertheless, many pathways and related proteins remain unexplored. The comprehensive understanding of the acclimation processes in cyanobacteria towards varying environmental CO2 levels will help to uncover adaptive mechanisms in other organisms, including higher plants.