Characterisation of Human Neutral and Lysosomal alpha-Mannosidases
Kuokkanen, Elina (2011-12-16)
---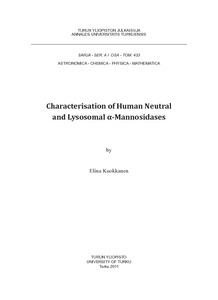 Turun yliopisto Annales Universitatis Turkuensis A I 433
16.12.2011
Julkaisun pysyvä osoite on:
http://urn.fi/URN:ISBN:978-951-29-4850-5
Kuvaus
Siirretty Doriasta
Tiivistelmä
Neutral alpha-mannosidase and lysosomal MAN2B1 alpha-mannosidase belong to glycoside hydrolase family 38, which contains essential enzymes required for the modification and catabolism of asparagine-linked glycans on proteins. MAN2B1 catalyses lysosomal glycan degradation, while neutral α-mannosidase is most likely involved in the catabolism of cytosolic free oligosaccharides. These mannose containing saccharides are generated during glycosylation or released from misfolded glycoproteins, which are detected by quality control in the endoplasmic reticulum.

To characterise the biological function of human neutral α-mannosidase, I cloned the alpha-mannosidase cDNA and recombinantly expressed the enzyme. The purified enzyme trimmed the putative natural substrate Man9GlcNAc to Man5GlcNAc, whereas the reducing end GlcNAc2 limited trimming to Man8GlcNAc2. Neutral α-mannosidase showed highest enzyme activity at neutral pH and was activated by the cations Fe2+, Co2+ and Mn2+, Cu2+ in turn had a strong inhibitory effect on alpha-mannosidase activity. Analysis of its intracellular localisation revealed that neutral alpha-mannosidase is cytosolic and colocalises with proteasomes. Further work showed that the overexpression of neutral alpha-mannosidase affected the cytosolic free oligosaccharide content and led to enhanced endoplasmic reticulum associated degradation and underglycosylation of secreted proteins.

The second part of the study focused on MAN2B1 and the inherited lysosomal storage disorder α-mannosidosis. In this disorder, deficient MAN2B1 activity is associated with mutations in the MAN2B1 gene. The thesis reports the molecular consequences of 35 alpha-mannosidosis associated mutations, including 29 novel missense mutations. According to experimental analyses, the mutations fall into four groups: Mutations, which prevent transport to lysosomes are accompanied with a lack of proteolytic processing of the enzyme (groups 1 and 3). Although the rest of the mutations (groups 2 and 4) allow transport to lysosomes, the mutated proteins are less efficiently processed to their mature form than is wild type MAN2B1. Analysis of the effect of the mutations on the model structure of human lysosomal alpha-mannosidase provides insights on their structural consequences. Mutations, which affect amino acids important for folding (prolines, glycines, cysteines) or domain interface interactions (arginines), arrest the enzyme in the endoplasmic reticulum. Surface mutations and changes, which do not drastically alter residue volume, are tolerated better. Descriptions of the mutations and clinical data are compiled in an α-mannosidosis database, which will be available for the scientific community.

This thesis provides a detailed insight into two ubiquitous human alpha-mannosidases. It demonstrates that neutral alpha-mannosidase is involved in the degradation of cytosolic oligosaccharides and suggests that the regulation of this α-mannosidase is important for maintaining the cellular homeostasis of N-glycosylation and glycan degradation. The study on alpha-mannosidosis associated mutations identifies multiple mechanisms for how these mutations are detrimental for MAN2B1 activity. The α-mannosidosis database will benefit both clinicians and scientific research on lysosomal alpha‑mannosidosis.