Superoxide dismutase 3-mediated cell survival and proliferation
Laatikainen, Lilja (2012-01-20)
---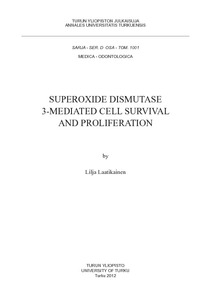 Annales Universitatis Turkuensis D 1001 Turun yliopisto
20.01.2012
Julkaisun pysyvä osoite on:
http://urn.fi/URN:ISBN:978-951-29-4872-7
Kuvaus
Siirretty Doriasta
Tiivistelmä
This dissertation studies the signaling events mediated by the extracellular superoxide dismutase (SOD3). SOD3 is an antioxidant enzyme which converts the harmful superoxide into hydrogen peroxide. Overproduction of these reactive oxygen species (ROS) in the cellular environment as a result of tissue injury or impaired antioxidant defense system has detrimental effects on tissue integrity and function. However, especially hydrogen peroxide is also an important signaling agent.

Ischemic injury in muscle causes acute oxidative stress and inflammation. We investigated the ability of SOD3 to attenuate ischemia induced inflammation and to promote recovery of skeletal muscle tissue. We found that SOD3 can downregulate the expression of several inflammatory cytokines and cell adhesion molecules thus preventing the accumulation of oxidant-producing inflammatory cells. Secondly, SOD3 was able to promote long-term activation of the mitogenic Erk pathway, but increased only briefly the activity of pro-survival Akt pathway at an early stage of ischemic inflammation, thus reducing apoptosis.

SOD3 is a prominent antioxidant in the thyroid gland where oxidative stress is constantly present. We investigated the role of SOD3 in normal thyroid follicular cells and the changes in its expression in various hyperproliferative disorders. We first showed that SOD3 is TSH-responsive which indicated its participation in thyroid function. Its principal function seems to be in follicular cell proliferation since knockdown cells were deficient in proliferation. Additionally, it was overexpressed in goiter tissue. However, SOD3 was consistently downregulated in thyroid cancer cell lines and tissues.

In conclusion, SOD3 is involved in tissue maintenance, cell proliferation and inflammatory cell migration. Its mechanisms of action are the activation of known proliferation/survival pathways, inhibition of apoptosis and regulation of adhesion molecule expression.