Frequency-Domain and Wide-Pulse Time-Domain Measurements of Lanthanide Luminescence and Lanthanide-Based Resonance Energy Transfer
Hyppänen, Iko (2012-02-10)
---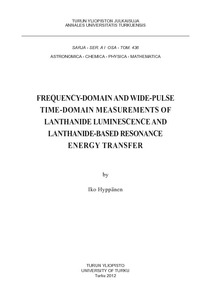 Turun yliopisto Annales Universitatis Turkuensis A I 436
10.02.2012
Julkaisun pysyvä osoite on:
https://urn.fi/URN:ISBN:978-951-29-4876-5
Kuvaus
Siirretty Doriasta
Tiivistelmä
Resonance energy transfer (RET) is a non-radiative transfer of the excitation energy from the initially excited luminescent donor to an acceptor. The requirements for the resonance energy transfer are: i) the spectral overlap between the donor emission spectrum and the acceptor absorption spectrum, ii) the close proximity of the donor and the acceptor, and iii) the suitable relative orientations of the donor emission and the acceptor absorption transition dipoles. As a result of the RET process the donor luminescence intensity and the donor lifetime are decreased. If the acceptor is luminescent, a sensitized acceptor emission appears. The rate of RET depends strongly on the donor–acceptor distance (r) and is inversely proportional to r6. The distance dependence of RET is utilized in binding assays. The proximity requirement and the selective detection of the RET-modified emission signal allow homogeneous separation free assays. The term lanthanide-based RET is used when luminescent lanthanide compounds are used as donors. The long luminescence lifetimes, the large Stokes' shifts and the intense, sharply-spiked emission spectra of the lanthanide donors offer advantages over the conventional organic donor molecules. Both the organic lanthanide chelates and the inorganic up-converting phosphor (UCP) particles have been used as donor labels in the RET based binding assays.

In the present work lanthanide luminescence and lanthanide-based resonance energy transfer phenomena were studied. Luminescence lifetime measurements had an essential role in the research. Modular frequency-domain and time-domain luminometers were assembled and used successfully in the lifetime measurements. The frequency-domain luminometer operated in the low frequency domain ( 100 kHz) and utilized a novel dual-phase lock-in detection of the luminescence. One of the studied phenomena was the recently discovered non-overlapping fluorescence resonance energy transfer (nFRET). The studied properties were the distance and temperature dependences of nFRET. The distance dependence was found to deviate from the Förster theory and a clear temperature dependence was observed whereas conventional RET was completely independent of the temperature. Based on the experimental results two thermally activated mechanisms were proposed for the nFRET process. The work with the UCP particles involved the measurement of the luminescence properties of the UCP particles synthesized in our laboratory. The goal of the UCP particle research is to develop UCP donor labels for binding assays. In the present work the effect of the dopant concentrations and the core–shell structure on the total up-conversion luminescence intensity, the red–green emission ratio, and the luminescence lifetime was studied. Also the non-radiative nature of the energy transfer from the UCP particle donors to organic acceptors was demonstrated for the first time in aqueous environment and with a controlled donor–acceptor distance.