Sitouttamisretoriikka yritysviestinnässä
Virsu, Ville (2012-02-18)
---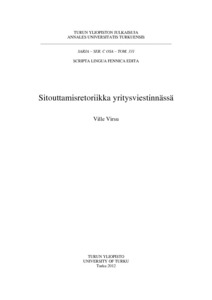 Annales Universitatis Turkuensis C 331 Turun yliopisto
18.02.2012
Julkaisun pysyvä osoite on:
http://urn.fi/URN:ISBN:978-951-29-4879-6
Kuvaus
Siirretty Doriasta
Tiivistelmä
This study focuses on work commitment creation on rhetorical level, that is to say, the rhetorical and linguistic means that are used to construct or elicit worker commitment. The commitment of the worker is one of the most important objectives of all business communication. There is a strong demand for commitment, identification, or adherence to work in various walks of life, although the actual circumstances are often somewhat insecure and shortsighted. The analysis demonstrates that the actual object of commitment may vary from work itself or work organization to one's career or professional development. The ideal pattern for commitment appears as comprehensive: it contains affective and rational as well as ideological dimensions. This thesis is a rhetorical discourse analysis, or rhetorical analysis with discourse-analytic influences. Primarily it is a rhetorical analysis in which discourses are observed mainly as tools of a rhetorician. The study also draws on various findings of sociology of work and organizational studies. Research material consists of magazines from three and web pages from six different companies.

This study explores repeated discourses in commitment rhetoric, mainly through pointing core concepts and recurrent patterns of argumentation. In this analysis section, a semantic and concept-analytic approach is also employed. Companies talk about ideas, values, feelings and attitudes thus constructing a united and unanimous group and an ideal model of commitment. Probably the most important domain of commitment rhetoric is the construction of group and community. Collective identity is constructed through shared meanings, values and goals, and these rhetorical group constructs that can be used and modified in various ways. Every now and then business communication also focuses on the individual, employing different speakers, positions and discourses associated to them. Constructing and using these positions also paints the picture of an ideal worker and ideal work orientation. For example, the so called entrepreneurship model is frequently used here.

Commitment talk and the rhetorical situation it constructs are full of tensions and contradictions; the presence of seemingly contradictory values, goals or identities is constant. This study demonstrates tensions like self-fulfilment and individuality versus conformity, and constant change and development versus dependable establishment, and analyses how they are used, processed and dealt with. An important dimension in commitment rhetoric is the way companies define themselves in respect of current social issues, and how they define themselves as responsible social actors, and how they, in this sense, seek to appear as attractive workplaces. This point of view gives rise to problematic questions as companies process the tensions between, for example, rhetoric and action, ethical ideals and business conditions and so on.

For its part, the commitment talk also defines the meaning of waged work in human life. Changing society, changing working life, and changing business environments set new claims and standards for workers and contents of work. In this point of view this research contributes to the study of working life and takes part in current public discussion concerning the meaning, role and future of waged work.