Observations on the Pharmacokinetics and Pharmacodynamics of Dexmedetomidine. Clinical Studies on Healthy Volunteers and Intensive Care Patients
Iirola, Timo (2012-03-16)
---
Observations on the Pharmacokinetics and Pharmacodynamics of Dexmedetomidine. Clinical Studies on Healthy Volunteers and Intensive Care Patients
(16.03.2012)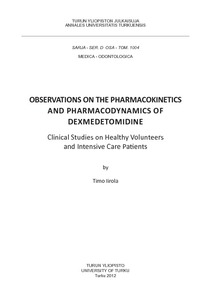 Annales Universitatis Turkuensis D 1004 Turun yliopisto
Julkaisun pysyvä osoite on:
https://urn.fi/URN:ISBN:978-951-29-4907-6
Kuvaus
Siirretty Doriasta
Tiivistelmä
Patients treated in intensive care units require sedation and analgesia. However,
sedative drugs also have potential adverse effects, and there is no single ideal sedativeanalgesic
drug for these patients.

Dexmedetomidine is an apha2-adrenoceptor agonist licenced for sedation of intensive care
patients and patients undergoing surgery and other invasive procedures. Several routes
of parenteral administration (intravenous, intramuscular, subcutaneous and intranasal)
have been utilized.

In the present series of studies, the pharmacokinetics and pharmacodynamics of
intranasally administered dexmedetomidine as well as the gastrointestinal effects of
intravenous dexmedetomidine were determined in healthy volunteers. Pharmacokinetics
of dexmedetomidine during long lasting, high-dose infusions were characterized
in intensive care patients.

The bioavailability of intranasal dexmedetomidine was relatively good (65%), but
interindividual variation was large. Dexmedetomidine significantly inhibited gastric
emptying and gastrointestinal transit. In intensive care patients, the elimination half-life
of dexmedetomidine was somewhat longer than reported for infusions of shorter
duration and in less ill patients or healthy volunteers. Dexmedetomidine appeared to
have linear pharmacokinetics up to the studied dose rate of 2.5 μg/kg/h.
Dexmedetomidine clearance was decreasing with age and its volume of distribution
was increased in hypoalbuminaemic patients, resulting in a longer elimination half-life
and context-sensitive half-time.

Intranasally administered dexmedetomidine was efficacious and well tolerated, making
it appropriate for clinical situations requiring light sedation. The clinical significance of
the gastrointestinal inhibitory effects of dexmedetomidine should be further evaluated
in intensive care patients. The possibility of potentially altered potency and effect
duration should be taken into account when administering dexmedetomidine to elderly
or hypoalbuminaemic patients.