Adoption of information technology based patient education in psychiatric nursing
Anttila, Minna (2012-03-31)
---
Adoption of information technology based patient education in psychiatric nursing
(31.03.2012)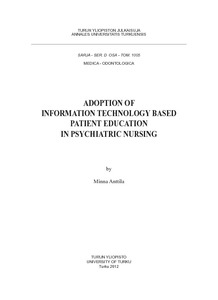 Annales Universitatis Turkuensis D 1005 Turun yliopisto
Julkaisun pysyvä osoite on:
https://urn.fi/URN:ISBN:978-951-29-4921-2
Kuvaus
Siirretty Doriasta
Tiivistelmä
The overall goal of the study was to describe adoption of information technology (IT)-based patient education (PE) developed for patients and nurses use in psychiatric nursing. The data were collected in three phases during the period 2000-2006 in a variety of psychiatric settings in Finland. Firstly, the development process of IT-based PE for patients with schizophrenia spectrum psychosis was described. Secondly, nurses' adoption of IT-based PE and the variables explaining adoption were demonstrated. Moreover, use of daily IT-based PE in clinical practice and factors associated with use were identified and described. And thirdly, nurses' experiences of the IT-based PE after one year clinical use were evaluated.

IT-based PE program was developed in several stages based on users' needs and it included information and multimedia applications. Altogether, almost 500 IT-based PE sessions were carried out by the nurses on the study wards and revealed nurses' activity in educating patients using IT to vary and depend on the hospital in which they worked. Almost 80% of all the possible IT-based PE sessions involved 93 patients and 83 nurses. Less than 2% of the IT-based PE sessions were interrupted and less than 10% suffered disturbances due to the patients or external causes. Moreover, the patients whose education took more days had poorer mental status than those whose education was carried out over a shorter period. After a year's experience, advantages and disadvantages were described by the nurses for both patients and nurses of the IT-based PE. IT-based PE can be used even on closed acute psychiatric wards with patients with serious mental health disorders. However, technology adoption requires time, and therefore, it must fit in with clinical practice.

Collaboration between users and developers is needed when developing user-centered methods in the area of mental health services. Moreover, it is important to understand factors that affect IT adoption in healthcare settings. IT-based PE is one option in interactive and co-operative health care practice between patients and nurses. Therefore the staff should begin to refer patients to established, credible and well-maintained Internet sites that provide information on common psychological problems. Even if every nurse should be trained and engaged to carry out IT-based PE, by targeting the training especially for the most active nurses aids them to support the less active ones. Adoption should also be understood from a perspective that includes aspects related to the context where it is implemented and examine how and in what circumstances it works.