Cyanobacteria from the Baltic Sea and Finnish lakes as an energy source and modulators of bioenergetic pathways
Shunmugam, Sumathy (2012-04-20)
---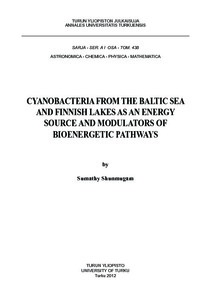 Turun yliopisto Annales Universitatis Turkuensis A I 438
20.04.2012
Julkaisun pysyvä osoite on:
http://urn.fi/URN:ISBN:978-951-29-4969-4
Kuvaus
Siirretty Doriasta
Tiivistelmä
Cyanobacteria are a diverse group of oxygenic photosynthetic bacteria that inhabit in a wide range of environments. They are versatile and multifaceted organisms with great possibilities for different biotechnological applications. For example, cyanobacteria produce molecular hydrogen (H2), which is one of the most important alternatives for clean and sustainable energy. Apart from being beneficial, cyanobacteria also possess harmful characteristics and may become a source of threat to human health and other living organisms, as they are able to form surface blooms that are producing a variety of toxic or bioactive compounds. The University of Helsinki Culture Collection (UHCC) maintains around 1,000 cyanobacterial strains representing a large number of genera and species isolated from the Baltic Sea and Finnish lakes. The culture collection covers different life forms such as unicellular and filamentous, N2-fixing and non-N2-fixing strains, and planktonic and benthic cyanobacteria.

In this thesis, the UHCC has been screened to identify potential strains for sustainable biohydrogen production and also for strains that produce compounds modifying the bioenergetic pathways of other cyanobacteria or terrestrial plants. Among the 400 cyanobacterial strains screened so far, ten were identified as high H2-producing strains. The enzyme systems involved in H2 metabolism of cyanobacteria were analyzed using the Southern hybridization approach. This revealed the presence of the enzyme nitrogenase in all strains tested, while none of them are likely to have contained alternative nitrogenases. All the strains tested, except for two Calothrix strains, XSPORK 36C and XSPORK 11A, were suggested to contain both uptake and bidirectional hydrogenases. Moreover, 55 methanol extracts of various cyanobacterial strains were screened to identify potent bioactive compounds affecting the photosynthetic apparatus of the model cyanobacterium, Synechocystis PCC 6803. The extract from Nostoc XPORK 14A was the only one that modified the photosynthetic machinery and dark respiration. The compound responsible for this effect was identified, purified, and named M22. M22 demonstrated a dual-action mechanism: production of reactive oxygen species (ROS) under illumination and an unknown mechanism that also prevailed in the dark.

During summer, the Baltic Sea is occupied by toxic blooms of Nodularia spumigena (hereafter referred to as N. spumigena), which produces a hepatotoxin called nodularin. Long-term exposure of the terrestrial plant spinach to nodularin was studied. Such treatment resulted in inhibition of growth and chlorosis of the leaves. Moreover, the activity and amount of mitochondrial electron transfer complexes increased in the leaves exposed to nodularin-containing extract, indicating upregulation of respiratory reactions, whereas no marked changes were detected in the structure or function of the photosynthetic machinery. Nodularin-exposed plants suffered from oxidative stress, evidenced by oxidative modifications of various proteins. Plants initiated strategies to combat the stress by increasing the levels of alpha-tocopherol, mitochondrial alternative oxidase (AOX), and mitochondrial ascorbate peroxidase (mAPX).