Molecular Systematics of Noctuoidea (Insecta, lepidoptera)
Zahiri, Reza (2012-05-26)
---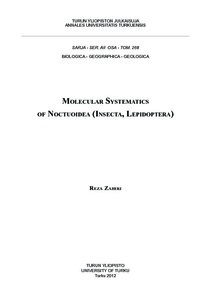 Turun yliopisto Annales Universitatis Turkuensis A II 268
26.05.2012
Julkaisun pysyvä osoite on:
http://urn.fi/URN:ISBN:978-951-29-5015-7
Kuvaus
Siirretty Doriasta
Tiivistelmä
In this thesis, I conduct a series of molecular systematic studies on the large phytophagous
moth superfamily Noctuoidea (Insecta, Lepidoptera) to clarify deep divergences and evolutionary
affinities of the group, based on material from every zoogeographic region of the globe.
Noctuoidea are the most speciose radiations of butterflies and moths on earth, comprising about a
quarter of all lepidopteran diversity. The general aim of these studies was to apply suitably
conservative genetic markers (DNA sequences of mitochondrial—mtDNA—and nuclear gene—
nDNA—regions) to reconstruct, as the initial step, a robust skeleton phylogenetic hypothesis for
the superfamily, then build up robust phylogenetic frameworks for those circumscribed
monophyletic entities (i.e., families), as well as clarifying the internal classification of
monophyletic lineages (subfamilies and tribes), to develop an understanding of the major lineages
at various taxonomic levels within the superfamily Noctuoidea, and their inter-relationships. The
approaches applied included: i) stabilizing a robust family-level classification for the superfamily;
ii) resolving the phylogeny of the most speciose radiation of Noctuoidea: the family Erebidae; iii)
reconstruction of ancestral feeding behaviors and evolution of the vampire moths (Erebidae,
Calpinae); iv) elucidating the evolutionary relationships within the family Nolidae and v)
clarifying the basal lineages of Noctuidae sensu stricto. Thus, in this thesis I present a wellresolved
molecular phylogenetic hypothesis for higher taxa of Noctuoidea consisting of six
strongly supported families: Oenosandridae, Notodontidae, Euteliidae, Erebidae, Nolidae, and
Noctuidae. The studies in my thesis highlight the importance of molecular data in systematic and
phylogenetic studies, in particular DNA sequences of nuclear genes, and an extensive sampling
strategy to include representatives of all known major lineages of entire world fauna of Noctuoidea
from every biogeographic region. This is crucial, especially when the model organism is as
species-rich, highly diverse, cosmopolitan and heterogeneous as the Noctuoidea, traits that
represent obstacles to the use of morphology at this taxonomic level.