Genetically Determined Hypometabolism in Alzheimer's Disease and Midlife Risk Factors for Cognitive Impairment
Virta, Jyri J. (2012-06-06)
---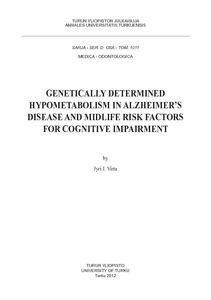 Annales Universitatis Turkuensis D 1011 Turun yliopisto
06.06.2012
Julkaisun pysyvä osoite on:
http://urn.fi/URN:ISBN: 978-951-29-4997-7
Kuvaus
Siirretty Doriasta
Tiivistelmä
The role of genetic factors in the pathogenesis of Alzheimer's disease (AD) is not completely
understood. In order to improve this understanding, the cerebral glucose metabolism of seven
monozygotic and nine dizygotic twin pairs discordant for AD was compared to that of 13
unrelated controls using positron emission tomography (PET). Traditional region of interest
analysis revealed no differences between the non-demented dizygotic co-twins and controls. In
contrast, in voxel-level and automated region of interest analyses, the non-demented
monozygotic co-twins displayed a lower metabolic rate in temporal and parietal cortices as well
as in subcortical grey matter structures when compared to controls. Again, no reductions were
seen in the non-demented dizygotic co-twins. The reductions seen in the non-demented
monozygotic co-twins may indicate a higher genetically mediated risk of AD or genetically
mediated hypometabolism possibly rendering them more vulnerable to AD pathogenesis.

With no disease modifying treatment available for AD, prevention of dementia is of the utmost
importance. A total of 2 165 at least 65 years old twins of the Finnish Twin Cohort with
questionnaire data from 1981 participated in a validated telephone interview assessing cognitive
function between 1999 and 2007. Those subjects reporting heavy alcohol drinking in 1981 had
an elevated cognitive impairment risk over 20 years later compared to light drinkers. In addition,
binge drinking was associated with an increased risk even when total alcohol consumption was
controlled for, suggesting that binge drinking is an independent risk factor for cognitive
impairment. When compared to light drinkers, also non-drinkers had an increased risk of
cognitive impairment.

Midlife hypertension, obesity and low leisure time physical activity but not
hypercholesterolemia were significant risk factors for cognitive impairment. The accumulation
of risk factors increased cognitive impairment risk in an additive manner. A previously
postulated dementia risk score based on midlife demographic and cardiovascular factors was
validated. The risk score was found to well predict cognitive impairment risk, and cognitive
impairment risk increased significantly as the score became higher. However, the risk score is
not accurate enough for use in the clinic without further testing.