Metabolic syndrome in young adults – prevalence, childhood predictors and association with subclinical atherosclerosis
Mattsson, Noora (2012-06-08)
---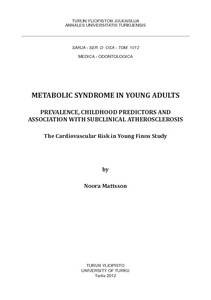 Annales Universitatis Turkuensis D 1012 Turun yliopisto
08.06.2012
Julkaisun pysyvä osoite on:
http://urn.fi/URN:ISBN:978-951-29-5013-3
Kuvaus
Siirretty Doriasta
Tiivistelmä
Background: Metabolic syndrome (MetS) is a cluster of cardiovascular risk factors including central obesity, insulin resistance, impaired glucose tolerance, hypertension and dyslipidemia. The prevalence of MetS is increasing worldwide in all age groups. MetS is associated with increased risk of cardiovascular disease and type 2 diabetes mellitus.

Aims: The aim of the present study was to investigate the prevalence, secular trends and childhood predictors of MetS in young adults. Furthermore, the relations between MetS and subclinical atherosclerosis were studied and whether apolipoproteins (apo) B and A-I, C-reactive protein (CRP) and type II secretory phospholipase A2 (sPLA2) were associated with MetS, and to what extent the atherogenicity of MetS was explained by these factors.

Participants and Methods: The present thesis is part of the large scale population-based, prospective study, the Cardiovascular Risk in Young Finns Study. The first cross-sectional study was conducted in 1980 and included 3,596 participants aged 3-18 years. Carotid and brachial ultrasound studies were performed for 2,283 of these participants in 2001 and 2,200 of these participants in 2007.

Results: The overall prevalence of MetS in young adults aged 24-39 years in 2001 was 10-15 % and 6 years later in 30-45 year-old adults it was 15-23 % depending on the MetS definition used. Between the years 1986 and 2001, MetS prevalence increased from 1.0 % to 7.5 % (p<0.0001) in 24-year-old participants that was mostly driven by the increased central obesity. Participants with MetS had increased carotid intima-media thickness (cIMT) and decreased carotid elasticity compared to those without the syndrome. Impaired brachial flow-mediated dilatation (FMD) was not related to MetS but it modified the relationship between MetS and cIMT (P for interaction 0.023). High levels of apoB, CRP, sPLA2 and low levels of apoA-I associated with MetS in young adults. In prospective analysis both MetS and high apoB predicted (P<0.0001) incident high cIMT, defined as cIMT>90th percentile and/or plaque. The association between MetS and incident high cIMT was attenuated by ~40 % after adjustment with apoB.

Conclusions: MetS is common in young adults and increases with age. Screening for risk factors, especially obesity, at an early life stage could help identify children and adolescents at increased risk of developing MetS and cardiovascular disease later in life. MetS identifies a population of young adults with evidence of increased subclinical atherosclerosis. Impaired brachial endothelial response is not a hallmark of MetS in young adults, but the status of endothelial function modifies the association between metabolic risk factors and atherosclerosis. In addition, the atherogenicity of MetS in this population assessed by incident high cIMT appears to be substantially mediated by elevated apoB.