Fractionation of Hen Egg and Oat Lipids with supercritical Fluids Chemical and functional Properties of Fractions
Aro, Heikki (2012-06-01)
---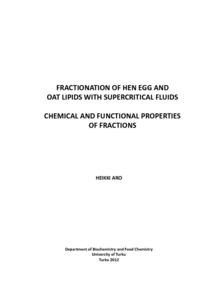 Turun yliopisto
01.06.2012
Julkaisun pysyvä osoite on:
http://urn.fi/URN:ISBN:978-951-29-5038-6
Kuvaus
Siirretty Doriasta
Tiivistelmä
Hen eggs and oats (Avena Sativa) are important materials for the food industry. Today,
instead of merely satisfying the feeling of hunger, consumers are asking for healthier,
biologically active and environmentally friendly products. The growing awareness of
consumers' increasing demands presents a great challenge to the food industry to develop
more sustainable products and utilise modern and effective techniques.

The modification of yolk fatty acid composition by means of feed supplements is well
understood. Egg yolk phospholipids are polar lipids and are used in several applications
including food, cosmetics, pharmaceuticals, and special nutrients. Egg yolk phospholipids
are excellent emulsifiers, typically sold as mixtures of phospholipids, triacylglycerols,
and cholesterol. However, highly purified and characterised phospholipids are needed
in several sophisticated applications. Industrial fractionation of phospholipids is usually
based on organic solvents. With these fractionation techniques, some harmful residues
of organic solvents may cause problems in further processing.

The objective of the present study was to investigate the methods to improve the functional
properties of eggs, to develop techniques to isolate the fractions responsible for
the specific functional properties of egg yolk lipids, and to apply the developed techniques
to plant-based materials, too. Fractionation techniques based on supercritical
fluids were utilised for the separation of the lipid fractions of eggs and oats. The chemical
and functional characterisation of the fractions were performed, and the produced
oat polar lipid fractions were tested as protective barrier in encapsulation processes.

Modifying the fatty acid compositions of egg yolks with different types of oil supplements
in feed had no affect on their functional or sensory properties. Based on the
results of functional and sensory analysis, it is evident that eggs with modified fatty acid
compositions are usable in several industrial applications. These applications include
liquid egg yolk products used in mayonnaise and salad dressings.

Egg yolk powders were utilised in different kinds of fractionation processes. The precipitation
method developed in this study resembles the supercritical anti-solvent method,
which is typically used in the pharmaceutical industry. With pilot scale supercritical fluid
processes, non-polar lipids and polar lipids were successfully separated from commercially
produced egg yolk powder and oat flakes. The egg and oat-based polar lipid fractions
showed high purities, and the corresponding delipidated fractions produced using
supercritical techniques offer interesting starting materials for the further production
of bioactive compounds. The oat polar lipid fraction contained especially digalactosyadiacylglycerol,
which was shown to have valuable functional properties in the encapsulation
of probiotics.