Effectiveness of the KiVa Antibullying Program
Kärnä, Antti (2012-06-15)
---
Effectiveness of the KiVa Antibullying Program
(15.06.2012)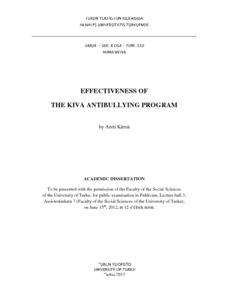 Turun yliopisto
Julkaisun pysyvä osoite on:
https://urn.fi/URN:ISBN:978-951-29-5025-6
Kuvaus
Siirretty Doriasta
Tiivistelmä
According to the participant role approach (Salmivalli, Lagerspetz, Björkqvist, Österman, & Kaukiainen, 1996), bullying is a group phenomenon that is largely enabled and maintained by the classmates taking on different participant roles (e.g., reinforcers or assistants of the bully). There is, however, very little evidence on whether the bystander behaviors actually have an effect on the risk for victimization. Furthermore, the participant role approach implies that the bystanders should be used in putting an end to bullying. This view has been put into practice in the KiVa antibullying program, but it has not yet been investigated whether the program is effective. Four studies were conducted to investigate, (a) whether the behaviors of bystanders have an effect on the risk for victimization (Study I) and (b) whether the KiVa program reduces bullying and victimization and has other beneficial effects as well (Studies II–IV). The participants included large samples of elementary and lower secondary school students (Grades 1–9) from Finland. The assessments were done with web-based questionnaires including questions about bullying and victimization (both self- and peer reports), and about several bullying-related constructs. The results of this thesis suggest that bystander behaviors in bullying situations may influence the risk for victimization of vulnerable students. Moreover, the results indicate that the KiVa antibullying program is effective in reducing victimization and bullying. The program effects are larger in elementary schools than in lower secondary schools, whereas in Grades 8 and 9, they are larger for boys than girls for some peer-reported outcomes. The magnitude of the overall effects can be considered practically significant when obtained in a large-scale dissemination of the program.