Essays on Business and Leadership Ethics
Takala, Tuomo (2012-06-20)
---
Essays on Business and Leadership Ethics
(20.06.2012)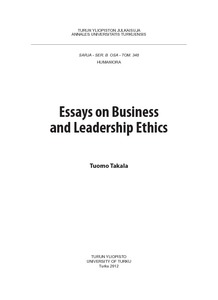 Turun yliopisto
Julkaisun pysyvä osoite on:
https://urn.fi/URN:ISBN:978-951-29-5011-9
Kuvaus
Siirretty Doriasta
Tiivistelmä
As this is a dissertation, an academic thesis, it is important to define the objectives of my research, even if ex post facto, explicitly:
- To define, develop and study the concept of business and leadership ethics.
- To empirically study the phenomena associated with business and leadership
from an ethical perspective.
- To create a new framework for the development of responsible business.
- To create an "acid test" for my body of works, i.e. a test and an evaluation
on how well my research and ideas hold up under academic philosophical
reflection.
The utilitarian reasoning had the most support when the actors justified their actions regarding economic benefit. (=instrumental good). Duty and benefit were often mixed up in people's speech. Their meaning contents were blurred and the argumentation lines created by the actors were broken. This can be interpreted in a way that supports Frankena's mixed deontological philosophy as a frame of reference. Deontologica reasoning was used e.g. in describing the personnel management processes of a company.

Virtue ethics is a favourable starting point for studying management and leadership
ethics. All the actors studied could name virtues for their operations, towards which to
aspire to. They also named professional practices already in use that they considered
to be virtuous.

Finally, I wish to state that normative ethics is an important branch of philosophical
ethics, if also very important in applied ethics especially. From the normative
standpoint, the results of this dissertation want to lead nations, communities and
individuals towards the virtues of democratic leadership and sustainable economic
development.