Bone Health, Osteoporosis and Fracture Risk in Neurofibromatosis 1 - An Emphasis on Osteoclasts
Heervä, Eetu (2012-06-29)
---
Bone Health, Osteoporosis and Fracture Risk in Neurofibromatosis 1 - An Emphasis on Osteoclasts
(29.06.2012)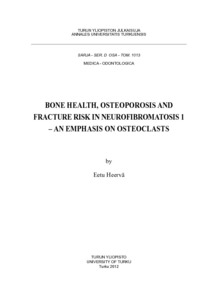 Annales Universitatis Turkuensis D 1013 Turun yliopisto
Julkaisun pysyvä osoite on:
https://urn.fi/URN:ISBN:978-951-29-5017-1
Kuvaus
Siirretty Doriasta
Tiivistelmä
Neurofibromatosis 1 (NF1) is an autosomal dominant hereditary syndrome, affecting skin, neural tissues and skeleton. Hallmarks of NF1 include benign cutaneous neurofibroma tumors, pigmentation lesions on the skin and in the iris, learning disabilities and predisposition to selected malignancies. Low bone mineral density (BMD) and osteopenia/osteoporosis are common in NF1.

Osteoporosis is a systemic disorder characterized by low bone mineral density and increased fracture risk. Treatment of osteoporosis aims to prevent falls and decrease fracture risk. Osteoporosis is diagnosed in adults by measuring BMD and evaluating clinical risk factors of the patient.

Bone turnover is a process of old bone resorbed by osteoclasts and new bone formed by osteoblasts. Multinuclear osteoclasts are derived from osteoclast progenitors, which can be isolated from peripheral blood. Osteoclast progenitors were isolated from 17 NF1 patients and healthy controls, and cultured in vitro to osteoclasts. NF1 osteoclasts are hyperactive, displaying increased differentiation and resorption capacity, abnormal morphology and tolerance to serum deprivation compared to control osteoclasts. These findings expanded the study to evaluate the effects of bisphosphonates, drugs designed to treat osteoporosis, in osteoclasts derived from blood samples of 20 NF1 and control persons. The number of control osteoclasts was expectedly reduced after bisphosphonate treatment. However, NF1 osteoclasts tolerated the apoptotic effect of alendronate, zoledronic acid and clodronate in vitro compared to controls.

NF1-related osteoporosis was found in ~20 % of the patients, and selected laboratory parameters were measured. Patients with NF1 have increased levels of serum CTX and PINP, reflecting increased bone turnover in vivo.

BMD decreases progressively in NF1 as evaluated in 19 NF1 patients 12 years after their initial BMD measurement. Patients with NF1-related osteopenia often progress to osteoporosis. This was found in patients aged 37-76.