Treatment of Acute Otitis Media
Tähtinen, Paula (2012-06-16)
---
Treatment of Acute Otitis Media
(16.06.2012)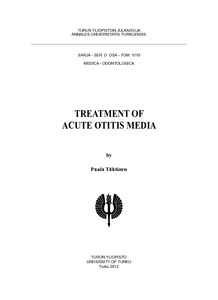 Annales Universitatis Turkuensis D 1019 Turun yliopisto
Julkaisun pysyvä osoite on:
https://urn.fi/URN:ISBN:978-951-29-5048-5
Kuvaus
Siirretty Doriasta
Tiivistelmä
Background: Acute otitis media (AOM) is the most common bacterial infection in young children, but the optimal management of AOM remains controversial. The aim of this study was to assess the efficacy of antimicrobial treatment, either immediate or delayed, for AOM and to compare parental experiences regarding the management of AOM in two countries with very different treatment guidelines.

Methods: Altogether, 322 children participated in a randomized, double-blind, placebocontrolled trial. Children 6–35 months of age with AOM received amoxicillin-clavulanate or placebo for 7 days. The primary outcome was the time to treatment failure. In the second study, the delayed antimicrobial treatment group consisted of recipients of placebo who had received rescue treatment. The immediate antimicrobial treatment group consisted of children allocated to amoxicillin-clavulanate group. Parental expectations and opinions were evaluated by questionnaires sent via public day care in Turku, Finland, and Utrecht, the Netherlands.

Results: Treatment failure occurred significantly more often in children receiving placebo as compared to antimicrobial treatment (45% vs. 19%, P<0.001). Delayed initiation of antimicrobial treatment did not worsen the recovery from AOM, but it was associated with worsening of the child's condition, prolongation of symptoms, and absenteeism from day care and parental absenteeism from work. According to the comparative questionnaire, antimicrobial use was more common in Finland than in the Netherlands. Finnish parents believed more often than Dutch parents that antimicrobials are necessary in the treatment of AOM.

Conclusions: Children with AOM benefit from antimicrobial treatment. Delayed initiation of antimicrobial does not worsen the overall recovery from AOM, but it might increase the symptom burden and create economic losses. Treatment practices and parental expectations seem to interact with each other. This needs to be considered when AOM treatment guidelines are updated.