Corporate responsibility guaranteed by dialogue? Examining the relationship between nongovernmental organizations and business
Laasonen, Salla (2012-02-17)
---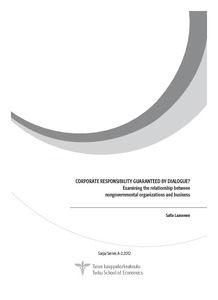 Turun yliopisto
17.02.2012
Julkaisun pysyvä osoite on:
http://urn.fi/URN:ISBN:978-952-249-193-0
Kuvaus
siirretty Doriasta
Tiivistelmä
The main objective of this doctoral dissertation is to examine the relationship between non-governmental organizations and business in the context of academic discourse, corporate responsibility discourse, and stakeholder dialogue. More specifically, motivated by the increasing emphasis on stakeholder dialogue as a tool for corporate responsibility and accountability, the aim is to critically assess the role of stakeholder dialogue as a self-regulatory mechanism, in particular from the perspective of foreign direct investments. The study comprises two parts; an introductory essay containing the research objectives, theoretical foundations and methodological choices, and four research articles that address one sub-objective: 1) to review the literature on NGO-business relations in business and society, management, and international business journals from 1998–2007; 2) to critically analyze the academic discourse on NGO-business relations; 3) to analyze the problematic aspects of sustainable foreign direct investments as a conceptual construct; and 4) to analyze the problematic aspects of stakeholder dialogue in connection with a foreign direct investment. The ontological and epistemological foundations of this dissertation build on the social constructionist view of reality. The dialogue in this study is viewed as a legitimacy bargaining process that is actively shaped by societal parties in discourse. Similarly, articulations of 'partnership' and 'adversarial' in NGO-business relations in academic business and society discourse are viewed as competing hegemonic interventions in the field. More specifically, the methods applied in the articles are literature review (Article 1), discourse theory (Article 2), conceptual analysis (Article 3), and case study with document analysis (Article 4). This dissertation has three main arguments and contributions. First, it is argued that the potential of stakeholder dialogue as a tool for corporate responsibility and accountability is inherently limited in both contexts. Second, the study shows the power implications of privileging partnership oriented NGO-business relations over adversarial ones, and of placing business at the centre of governance discourse. The third contribution is methodological: a new way to analyze academic discourse is presented by focusing on the problem setting of an article.