Identification and characterization of new genes and pathways regulating spermatogonial cell fate
Mäkelä, Juho-Antti (2012-08-17)
---
Identification and characterization of new genes and pathways regulating spermatogonial cell fate
(17.08.2012)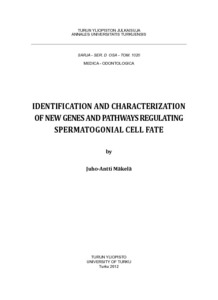 Annales Universitatis Turkuensis D 1020 Turun yliopisto
Julkaisun pysyvä osoite on:
https://urn.fi/URN:ISBN:978-951-29-5050-8
Kuvaus
Siirretty Doriasta
Tiivistelmä
Spermatogenesis, i.e sperm production in the seminiferous tubules of the testis, is a complex
process that takes over one month to complete. Life-long ability of sperm production ultimately
lies in a small population of undifferentiated cells, called spermatogonial stem cells (SSCs). These
cells give rise to differentiating spermatogonia, which are committed to mature into spermatozoa.
SSCs represent a heterogeneous population of cells and many aspects of their basic biology are still
unknown. Understanding the mechanisms behind the cell fate decision of these cells is important
to gain more insights into the causes of infertility and testis cancer. In addition, an interesting new
aspect is the use of testis-derived stem cells in regenerative medicine.

Our data demonstrated that adult mouse testis houses a population of Nanog-expressing
spermatogonia. Based on mRNA and protein analysis these cells are enriched in stage XII of the
mouse seminiferous epithelial cycle. The cells derived from this stage have the highest capacity
to give rise to ES cell-like cells which express Oct4 and Nanog. These cells are under tight non-
GDNF regulation but their fate can be dictated by activating p21 signalling. Comparative studies
suggested that these cells are regulated like ES cells. Taken together these data imply that
pluripotent cells are present in the adult mammalian testis.

CIP2A (cancerous inhibitor of PP2A) has been associated with tumour aggressiveness and poor
prognosis. In the testis it is expressed by the descendants of stem cells, i.e. the spermatogonial
progenitor cells. Our data suggest that CIP2A acts upstream of PLZF and is needed for
quantitatively normal spermatogenesis. Classification of CIP2A as a cancer/testis gene makes it
an attractive target for cancer therapy. Study on the CIP2A deficient mouse model demonstrates
that systemic inhibition of CIP2A does not severely interfere with growth and development or
tissue or organ function, except for the spermatogenic output. These data demonstrate that
CIP2A is required for quantitatively normal spermatogenesis.

Hedgehog (Hh) signalling is involved in the development and maintenance of many different
tissues and organs. According to our data, Hh signalling is active at many different levels during rat
spermatogenesis: in spermatogonia, spermatocytes and late elongating spermatids. Localization of
Suppressor of Fused (SuFu), the negative regulator of the pathway, specifically in early elongating
spermatids suggests that Hh signalling needs to be shut down in these cells. Introduction of Hh
signalling inhibitor resulted in an increase in germ cell apoptosis. Follicle-stimulating hormone (FSH)
and inhibition of receptor tyrosine kinases resulted in down-regulation of Hh signalling. These data
show that Hh signalling is under endocrine and paracrine control and it promotes germ cell survival.