Mitochondrial disease in Southwestern Finland. Population-based molecular genetic and clinical studies
Martikainen, Mika H. (2012-08-17)
---
Mitochondrial disease in Southwestern Finland. Population-based molecular genetic and clinical studies
(17.08.2012)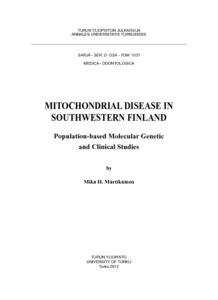 Annales Universitatis Turkuensis D 1021 Turun yliopisto
Julkaisun pysyvä osoite on:
https://urn.fi/URN:ISBN:978-951-29-5060-7
Kuvaus
Siirretty Doriasta
Tiivistelmä
Mitochondria are present in all eukaryotic cells. They enable these cells utilize oxygen
in the production of adenosine triphosphate in the oxidative phosphorylation system,
the mitochondrial respiratory chain. The concept 'mitochondrial disease' conventionally
refers to disorders of the respiratory chain that lead to oxidative phosphorylation defect.
Mitochondrial disease in humans can present at any age, and practically in any organ
system. Mitochondrial disease can be inherited in maternal, autosomal dominant,
autosomal recessive, or X-chromosomal fashion. One of the most common molecular
etiologies of mitochondrial disease in population is the m.3243A>G mutation in the
MT-TL1 gene, encoding mitochondrial tRNALeu(UUR). Clinical evaluation of patients
with m.3243A>G has revealed various typical clinical features, such as stroke-like
episodes, diabetes mellitus and sensorineural hearing loss. The prevalence and clinical
characteristics of mitochondrial disease in population are not well known. This
thesis consists of a series of studies, in which the prevalence and characteristics of
mitochondrial disease in the adult population of Southwestern Finland were assessed.
Mitochondrial haplogroup Uk was associated with increased risk of occipital ischemic
stroke among young women. Large-scale mitochondrial DNA deletions and mutations
of the POLG1 gene were the most common molecular etiologies of progressive external
ophthalmoplegia. Around 1% of diabetes mellitus emerging between the ages 18 – 45
years was associated with the m.3243A>G mutation. Moreover, among these young
diabetic patients, mitochondrial haplogroup U was associated with maternal family
history of diabetes. These studies demonstrate the usefulness of carefully planned
molecular epidemiological investigations in the study of mitochondrial disorders.