An Infant with Food Allergy and Eczema in the Family – The Mental and Economic Burden of Caring
Alanne, Soili (2012-08-16)
---
An Infant with Food Allergy and Eczema in the Family – The Mental and Economic Burden of Caring
(16.08.2012)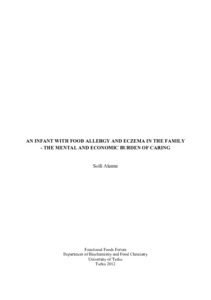 Turun yliopisto
Julkaisun pysyvä osoite on:
https://urn.fi/URN:ISBN:978-951-29-5078-2
Kuvaus
Siirretty Doriasta
Tiivistelmä
Allergic diseases including food allergy and eczema in an infant in combination with the everyday activities of caring for a family will pose challenges to parents. Only fragments of these challenges are revealed to health care professionals. Families have varying mental, social and economic resources to help them care for an allergic infant, and all such resources are important in determining how families succeed in meeting these challenges and the quality of the infant's care.
This study evaluated the whole burden to the family caused by an infant's allergic disease during the first 24 months of life. As the primary caregiver during this period is usually the mother, her perspective was considered important. Ecocultural theory, which considers families as capable of modifying the positive and negative forces facing them, was taken as the frame of reference. Data were collected as part of an ongoing prospective mother-infant study, and the methods included severity scoring of atopic dermatitis, dietary records, health-related quality of life measurements and assessments of the use of health care services and medications for treating the infant's eczema, food allergy and asthma. Interviews with mothers were analysed by deductive content analysis on the basis of ecocultural theory and the family empowerment model.

The theme "Living an ordinary family life" guided the organization of family activities essential for treating the infant's food allergy and eczema. These activities were sources of both strain and support for the mothers, the allergy-related supporting factors being the mother's own knowledge of the allergy, hopes for an improvement in the infant's condition, social support and work. An infant's food allergy at the age of one year caused considerable strain for the mother in cases where the introduction of new foods into the child's diet was delayed. This delay was still causing the mother additional strain when the child was 24 months of age. The infants waking at night at the ages of 12 and 24 months because of itching related to eczema caused strain for the mothers.

The infants' health-related quality of life was impaired at ages of 6 and 12 months compared with healthy infants. The principal reasons for impairments were itching, scratching and sleep disturbances at 6 and 12 months and treatment difficulties at 6 months. Problems with getting to sleep were reported at all stages irrespective of eczema and were also present in healthy infants. The economic impact of the treatment of allergic diseases on families during the first 24 months was 131 EUR (2006 value) in cases of eczema and 525 EUR in cases of food allergy. From the societal perspective, the costs of food allergy were a median of 3183 EUR (range 628–11 560 EUR) and of eczema a median of 275 EUR (range 94–1306 EUR). These large variations in costs in food allergy and eczema indicate that disease varies greatly
.
In conclusion, food allergy and eczema cause extra activities and costs to families which arrange these disease-related activities in such a way that they support the leading family theme "Living an ordinary family life". Health care professionals should consider this thematic character of family life and disease-related activities in order to ensure that new treatments are sustainable, meaningful and tailored to daily activities. In addition, those mothers who are experiencing difficulties with food allergic infants or infants with eczema should be recognized early and provided with individual encouragement and support from health clinics. In the light of the present results, early detection of symptoms and effective parental guidance can contribute to the well-being and health-related quality of life of the child and family.