Cognitive Auditory Evoked Potentials in Investigation of Hearing Discrimination
Saura, Sirkku (2012-08-24)
---
Cognitive Auditory Evoked Potentials in Investigation of Hearing Discrimination
(24.08.2012)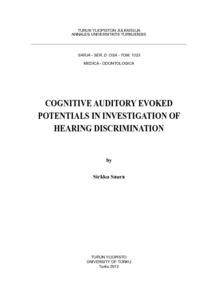 Annales Universitatis Turkuensis D 1023 Turun yliopisto
Julkaisun pysyvä osoite on:
https://urn.fi/URN:ISBN:978-951-29-5070-6
Kuvaus
Siirretty Doriasta
Tiivistelmä
Preattentive perception of occasional deviating stimuli in the stream of standard
stimuli can be recorded with cognitive event-related potential (ERP) mismatch
negativity (MMN). The earlier detection of stimuli at the auditory cortex can be
examined with N1 and P2 ERPs. The MMN recording does not require co-operation,
it correlates with perceptual threshold, and even complex sounds can be used as
stimuli.

The aim of this study was to examine different aspects that should be considered when
measuring discrimination of hearing with ERPs. The MMN was found to be stimulusintensity-
dependent. As the intensity of sine wave stimuli was increased from 40 to
80 dB HL, MMN mean amplitudes increased. The effect of stimulus frequency on the
MMN was studied so that the pitch difference would be equal in each stimulus block
according to the psychophysiological mel scale or the difference limen of frequency
(DLF). However, the blocks differed from each other.

The contralateral white noise masking (50 dB EML) was found to attenuate the MMN
amplitude when the right ear was stimulated. The N1 amplitude was attenuated and, in
contrast, P2 amplitude was not affected by contralateral white noise masking.
The perception and production of vowels by four postlingually deafened patients with a
cochlear implant were studied. The MMN response could be elicited in the patient with
the best vowel perception abilities.

The results of the studies show that concerning the MMN recordings, the stimulus
parameters and recording procedure design have a great influence on the results.