Molecular diagnostics of rare inherited SYNDROMES with a view on diagnostic test development
Pohjola, Pia (2012-08-24)
---
Molecular diagnostics of rare inherited SYNDROMES with a view on diagnostic test development
(24.08.2012)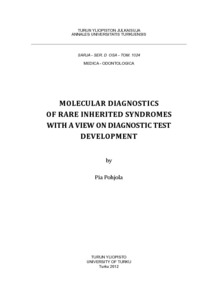 Annales Universitatis Turkuensis D 1024 Turun yliopisto
Julkaisun pysyvä osoite on:
https://urn.fi/URN:ISBN:978-951-29-5072-0
Kuvaus
Siirretty Doriasta
Tiivistelmä
CHARGE syndrome, Sotos syndrome and 3p deletion syndrome are examples of
rare inherited syndromes that have been recognized for decades but for which the
molecular diagnostics only have been made possible by recent advances in genomic
research. Despite these advances, development of diagnostic tests for rare syndromes
has been hindered by diagnostic laboratories having limited funds for test
development, and their prioritization of tests for which a (relatively) high demand
can be expected.

In this study, the molecular diagnostic tests for CHARGE syndrome and Sotos syndrome
were developed, resulting in their successful translation into routine diagnostic
testing in the laboratory of Medical Genetics (UTUlab). In the CHARGE syndrome
group, mutation was identified in 40.5% of the patients and in the Sotos
syndrome group, in 34%, reflecting the use of the tests in routine diagnostics in
differential diagnostics. In CHARGE syndrome, the low prevalence of structural aberrations
was also confirmed. In 3p deletion syndrome, it was shown that small
terminal deletions are not causative for the syndrome, and that testing with arraybased
analysis provides a reliable estimate of the deletion size but benign copy
number variants complicate result interpretation. During the development of the
tests, it was discovered that finding an optimal molecular diagnostic strategy for a
given syndrome is always a compromise between the sensitivity, specificity and feasibility
of applying a new method. In addition, the clinical utility of the test should
be considered prior to test development: sometimes a test performing well in a
laboratory has limited utility for the patient, whereas a test performing poorly in
the laboratory may have a great impact on the patient and their family. At present,
the development of next generation sequencing methods is changing the concept
of molecular diagnostics of rare diseases from single tests towards whole-genome
analysis.