Ankle-brachial index, high-sensitivity C-reactive protein and endothelial function in a cardiovascular risk population
Syvänen, Kari (2012-08-31)
---
Ankle-brachial index, high-sensitivity C-reactive protein and endothelial function in a cardiovascular risk population
(31.08.2012)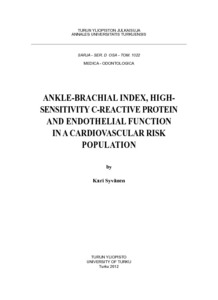 Annales Universitatis Turkuensis D 1022 Turun yliopisto
Julkaisun pysyvä osoite on:
https://urn.fi/URN:ISBN:978-951-29-5066-9
Kuvaus
Siirretty Doriasta
Tiivistelmä
Atherosclerotic vascular disease is the leading cause of death in the Western world.
Its main three manifestations are coronary heart disease, cerebrovascular disease, and
peripheral arterial disease. Asymptomatic peripheral arterial disease is usually diagnosed
using the ankle brachial index, and values ≤ 0.90 are used to determine the diagnosis.
The classical risk factors of peripheral arterial disease, such as smoking and diabetes,
are well known and early interventions are mandatory to improve the prognosis. What
is not well known is the role of inflammation as a risk factor. Yet, a novel approach to
cardiovascular diseases is the measurement of endothelial function.

In this thesis, we studied the ankle-brachial index, C-reactive protein and endothelial
function in a cardiovascular risk population. A total of 2856 subjects were invited to the
study and 2085 (73%) responded. From these subjects, a cohort of 1756 risk persons
was screened. We excluded the subjects with previously known cardiovascular disease
or diabetes, because they were already under systematic follow-up. Out of the study
subjects, 983 (56%) were women and 773 (44%) men. The ankle brachial index and
high-sensitivity C-reactive protein were measured from 1047 subjects. Endothelial
function was assessed by measuring reactive hyperemia pulse amplitude tonometry from
66 subjects with borderline peripheral arterial disease.

In this study, smoking was a crucial risk factor for peripheral arterial disease. Subclinical
peripheral arterial disease seems to be more common in hypertensive patients even without
comorbidities. The measurement of the ankle brachial index is an efficient method to
identify patients at an increased cardiovascular risk. High-sensitivity C-reactive protein
did not correlate with the ankle brachial index or peripheral arterial disease. Instead, it
correlated with measures of obesity. In a cardiovascular risk population with borderline
peripheral arterial disease, nearly every fourth subject had endothelial dysfunction. This
might point out a subgroup of individuals in need of more intensive treatment for their
risk factors.