Generation and Characterization of Knockout Mice and Analysis of Patient Material Demonstrates a Role for Tissue Inhibitor of Metalloproteinases 4 (Timp4) in the Cardiovascular System and Tumor Metastasis
Koskivirta, Ilpo (2012-08-31)
---
Generation and Characterization of Knockout Mice and Analysis of Patient Material Demonstrates a Role for Tissue Inhibitor of Metalloproteinases 4 (Timp4) in the Cardiovascular System and Tumor Metastasis
(31.08.2012)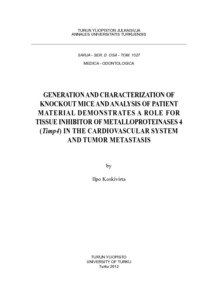 Annales Universitatis Turkuensis D 1027 Turun yliopisto
Julkaisun pysyvä osoite on:
https://urn.fi/URN:ISBN:978-951-29-5098-0
Kuvaus
Siirretty Doriasta
Tiivistelmä
This thesis focuses on tissue inhibitor of metalloproteinases 4 (TIMP4) which is the
newest member of a small gene and protein family of four closely related endogenous
inhibitors of extracellular matrix (ECM) degrading enzymes. Existing data on TIMP4
suggested that it exhibits a more restricted expression pattern than the other TIMPs with
high expression levels in heart, brain, ovary and skeletal muscle. These observations
and the fact that the ECM is of special importance to provide the cardiovascular system
with structural strength combined with elasticity and distensibility, prompted the present
molecular biologic investigation on TIMP4.

In the first part of the study the murine Timp4 gene was cloned and characterized
in detail. The structure of murine Timp4 genomic locus resembles that in other species
and of the other Timps. The highest Timp4 expression was detected in heart, ovary
and brain. As the expression pattern of Timp4 gives only limited information about
its role in physiology and pathology, Timp4 knockout mice were generated next. The
analysis of Timp4 knockout mice revealed that Timp4 deficiency has no obvious effect
on the development, growth or fertility of mice. Therefore, Timp4 deficient mice were
challenged using available cardiovascular models, i.e. experimental cardiac pressure
overload and myocardial infarction. In the former model, Timp4 deficiency was found
to be compensated by Timp2 overexpression, whereas in the myocardial infarct model,
Timp4 deficiency resulted in increased mortality due to increased susceptibility for
cardiac rupture. In the wound healing model, Timp4 deficiency was shown to result
in transient retardation of re-epithelialization of cutaneous wounds. Melanoma tumor
growth was similar in Timp4 deficient and control mice. Despite of this, lung metastasis
of melanoma cells was significantly increased in Timp4 null mice. In an attempt to
translate the current findings to patient material, TIMP4 expression was studied in
human specimens representing different inflammatory cardiovascular pathologies, i.e.
giant cell arteritis, atherosclerotic coronary arteries and heart allografts exhibiting signs
of chronic rejection. The results showed that cardiovascular expression of TIMP4 is
elevated particularly in areas exhibiting inflammation.

The results of the present studies suggest that TIMP4 has a special role in the
regulation of tissue repair processes in the heart, and also in healing wounds and
metastases. Furthermore, evidence is provided suggesting the usefulness of TIMP4 as a
novel systemic marker for vascular inflammation.