The spindle assembly checkpoint as a drug target - Novel small-molecule inhibitors of Aurora kinases
Salmela, Anna-Leena (2012-09-21)
---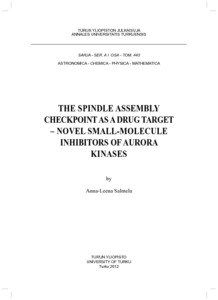 Turun yliopisto Annales Universitatis Turkuensis 443
21.09.2012
Julkaisun pysyvä osoite on:
http://urn.fi/URN:ISBN:978-951-29-5115-4
Kuvaus
Siirretty Doriasta
Tiivistelmä
Cell division (mitosis) is a fundamental process in the life cycle of a cell. Equal distribution of chromosomes between the daughter cells is essential for the viability and well-being of an organism: loss of fidelity of cell division is a contributing factor in human cancer and also gives rise to miscarriages and genetic birth defects. For maintaining the proper chromosome number, a cell must carefully monitor cell division in order to detect and correct mistakes before they are translated into chromosomal imbalance. For this purpose an evolutionarily conserved mechanism termed the spindle assembly checkpoint (SAC) has evolved. The SAC comprises a complex network of proteins that relay and amplify mitosis-regulating signals created by assemblages called kinetochores (KTs). Importantly, minor defects in SAC signaling can cause loss or gain of individual chromosomes (aneuploidy) which promotes tumorigenesis while complete failure of SAC results in cell death. The latter event has raised interest in discovery of low molecular weight (LMW) compounds targeting the SAC that could be developed into new anti-cancer therapeutics.

In this study, we performed a cell-based, phenotypic high-throughput screen (HTS) to identify novel LMW compounds that inhibit SAC function and result in loss of cancer cell viability. Altogether, we screened 65 000 compounds and identified eight that forced the cells prematurely out of mitosis. The flavonoids fisetin and eupatorin, as well as the synthetic compounds termed SACi2 and SACi4, were characterized in more detail utilizing versatile cell-based and biochemical assays. To identify the molecular targets of these SAC-suppressing compounds, we investigated the conditions in which SAC activity became abrogated. Eupatorin, SACi2 and SACi4 preferentially abolished the tensionsensitive arm of the SAC, whereas fisetin lowered also the SAC activity evoked by lack of attachments between microtubules (MTs) and KTs. Consistent with the abrogation of SAC in response to low tension, our data indicate that all four compounds inhibited the activity of Aurora B kinase. This essential mitotic protein is required for correction of erratic MT-KT attachments, normal SAC signaling and execution of cytokinesis. Furthermore, eupatorin, SACi2 and SACi4 also inhibited Aurora A kinase that controls the centrosome maturation and separation and formation of the mitotic spindle apparatus. In line with the established profound mitotic roles of Aurora kinases, these small compounds perturbed SAC function, caused spindle abnormalities, such as multi- and monopolarity and fragmentation of centrosomes, and resulted in polyploidy due to defects in cytokinesis. Moreover, the compounds dramatically reduced viability of cancer cells.

Taken together, using a cell-based HTS we were able to identify new LMW compounds targeting the SAC. We demonstrated for the first time a novel function for flavonoids as cellular inhibitors of Aurora kinases. Collectively, our data support the concept that loss of mitotic fidelity due to a non-functional SAC can reduce the viability of cancer cells, a phenomenon that may possess therapeutic value and fuel development of new anti-cancer drugs.