Detection of the Vulnerable Atherosclerotic Plaque. Pre-Clinical Evaluation of Novel PET Imaging Probes With Experimental Models
Silvola, Johanna (2012-10-05)
---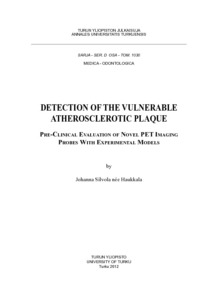 Annales Universitatis Turkuensis D 1030 Turun yliopisto
05.10.2012
Julkaisun pysyvä osoite on:
http://urn.fi/URN:ISBN:978-951-29-5122-2
Kuvaus
Siirretty Doriasta
Tiivistelmä
Atherosclerosis is a life-long vascular inflammatory disease and the leading cause of
death in Finland and in other western societies. The development of atherosclerotic
plaques is progressive and they form when lipids begin to accumulate in the vessel wall.
This accumulation triggers the migration of inflammatory cells that is a hallmark of
vascular inflammation. Often, this plaque will become unstable and form vulnerable
plaque which may rupture causing thrombosis and in the worst case, causing myocardial
infarction or stroke. Identification of these vulnerable plaques before they rupture could
save lives. At present, in the clinic, there exists no appropriated, non-invasive method
for their identification.

The aim of this thesis was to evaluate novel positron emission tomography (PET)
probes for the detection of vulnerable atherosclerotic plaques and to characterize, two
mouse models of atherosclerosis. These studies were performed by using ex vivo and in
vivo imaging modalities. The vulnerability of atherosclerotic plaques was evaluated as
expression of active inflammatory cells, namely macrophages.

Age and the duration of high-fat diet had a drastic impact on the development of
atherosclerotic plaques in mice. In imaging of atherosclerosis, 6-month-old mice, kept
on high-fat diet for 4 months, showed matured, metabolically active, atherosclerotic
plaques. [18F]FDG and 68Ga were accumulated in the areas representative of vulnerable
plaques. However, the slow clearance of 68Ga limits its use for the plaque imaging. The
novel synthesized [68Ga]DOTA-RGD and [18F]EF5 tracers demonstrated efficient uptake
in plaques as compared to the healthy vessel wall, but the pharmacokinetic properties of
these tracers were not optimal in used models.

In conclusion, these studies resulted in the identification of new strategies for the
assessment of plaque stability and mouse models of atherosclerosis which could be used
for plaque imaging. In the used probe panel, [18F]FDG was the best tracer for plaque
imaging. However, further studies are warranted to clarify the applicability of [18F]EF5
and [68Ga]DOTA-RGD for imaging of atherosclerosis with other experimental models.