Spin-Dynamics in Cold Gases of 87Rb and Atomic Hydrogen. The spins they are a-changin'
Vainio, Otto (2012-10-06)
---
Spin-Dynamics in Cold Gases of 87Rb and Atomic Hydrogen. The spins they are a-changin'
(06.10.2012)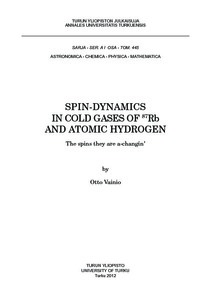 Turun yliopisto Annales Universitatis Turkuensis A I 445
Julkaisun pysyvä osoite on:
https://urn.fi/URN:ISBN:978-951-29-5146-8
Kuvaus
Siirretty Doriasta
Tiivistelmä
In this thesis the dynamics of cold gaseous atoms is studied. Two different atomic species and two different experimental techniques have been used.

In the first part of the thesis experiments with Bose-Einstein condensates of Rb-87 are presented. In these experiments the methods of laser cooling and magnetic trapping of atoms were utilized. An atom chip was used as the experimental technique for implementation of magnetic trapping. The atom chip is a small integrated instrument allowing accurate and detailed manipulation of the atoms.

The experiments with Rb-87 probed the behaviour of a falling beam of atoms outcoupled from the Bose-Einstein condensate by electromagnetic field induced spin flips. In the experiments a correspondence between the phases of the outcoupling radio frequency field and the falling beam of atoms was found.

In the second part of the thesis experiments of spin dynamics in cold atomic hydrogen gas are discussed. The experiments with atomic hydrogen are conducted in a cryostat using a dilution refrigerator as the cooling method. These experiments concentrated on explaining and quantifying modulations in the electron spin resonance spectra of doubly polarized atomic hydrogen. The modifications to the previous experimental setup are described and the observation of electron spin waves is presented. The observed spin wave modes were caused by the identical spin rotation effect. These modes have a strong dependence on the spatial profile of the polarizing magnetic field. We also demonstrated confinement of these modes in regions of strong magnetic field and manipulated their spatial distribution by changing the position of the field maximum.