System-wide approaches to uncover Th2 cell lineage commitment
Lönnberg, Tapio (2012-10-26)
---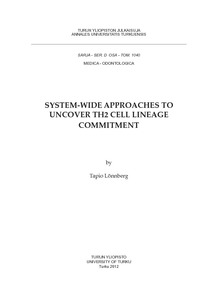 Annales Universitatis Turkuensis D 1040 Turun yliopisto
26.10.2012
Julkaisun pysyvä osoite on:
http://urn.fi/URN:ISBN:978-951-29-5184-0
Kuvaus
Siirretty Doriasta
Tiivistelmä
T helper (Th) cells are vital regulators of the adaptive immune system. When
activated by presentation of cognate antigen, Th cells demonstrate capacity to
differentiate into functionally distinct effector cell subsets. The Th2 subset is
required for protection against extracellular parasites, such as helminths, but
is also closely linked to pathogenesis of asthma and allergies. The intracellular
molecular signal transduction pathways regulating T helper cell subset
differentiation are still incompletely known. Moreover, great majority of studies
regarding Th2 differentiation have been conducted with mice models, while
studies with human cells have been fewer in comparison. The goal of this thesis
was to characterize molecular mechanisms promoting the development of Th2
phenotype, focusing specifically on human umbilical cord blood T cells as an
experimental model. These primary cells, activated and differentiated to Th2
cells in vitro, were investigated by complementary system-wide approaches,
targeting levels of mRNA, proteins, and lipid molecules. Specifically, the results
indicated IL4-regulated recruitment of nuclear protein, and described novel
components of the Th2-promoting STAT6 enhanceosome complex. Furthermore,
the development of the activated effector cell phenotype was found to correlate
with remodeling of the cellular lipidome. These findings will hopefully advance
the understanding of human Th2 cell lineage commitment and development of
Th2-associated disease states.