Environments of Active Galaxies
Lietzen, Heidi (2012-11-10)
---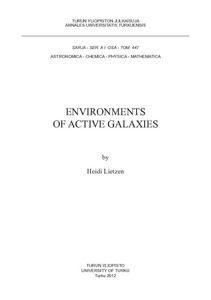 Turun yliopisto Annales Universitatis Turkuensis A I 447
10.11.2012
Julkaisun pysyvä osoite on:
http://urn.fi/URN:ISBN:978-951-29-5172-7
Kuvaus
Siirretty Doriasta
Tiivistelmä
This dissertation presents studies on the environments of active galaxies.

Paper I is a case study of a cluster of galaxies containing BL Lac object RGB
1745+398. We measured the velocity dispersion, mass, and richness of the cluster. This
was one of the most thorough studies of the environments of a BL Lac object. Methods
used in the paper could be used in the future for studying other clusters as well.

In Paper II we studied the environments of nearby quasars in the Sloan Digital Sky
Survey (SDSS). We found that quasars have less neighboring galaxies than luminous
inactive galaxies. In the large-scale structure, quasars are usually located at the edges
of superclusters or even in void regions. We concluded that these low-redshift quasars
may have become active only recently because the galaxies in low-density environments
evolve later to the phase where quasar activity can be triggered.

In Paper III we extended the analysis of Paper II to other types of AGN besides
quasars. We found that different types of AGN have different large-scale environments.
Radio galaxies are more concentrated in superclusters, while quasars and Seyfert galaxies
prefer low-density environments. Different environments indicate that AGN have
different roles in galaxy evolution. Our results suggest that activity of galaxies may
depend on their environment on the large scale.

Our results in Paper III raised questions of the cause of the environment-dependency
in the evolution of galaxies. Because high-density large-scale environments contain
richer groups and clusters than the underdense environments, our results could reflect
smaller-scale effects. In Paper IV we addressed this problem by studying the group and
supercluster scale environments of galaxies together. We compared the galaxy populations
in groups of different richnesses in different large-scale environments. We found
that the large-scale environment affects the galaxies independently of the group richness.
Galaxies in low-density environments on the large scale are more likely to be
star-forming than those in superclusters even if they are in groups with the same richness.

Based on these studies, the conclusion of this dissertation is that the large-scale environment
affects the evolution of galaxies. This may be caused by different "speed" of
galaxy evolution in low and high-density environments: galaxies in dense environments
reach certain phases of evolution earlier than galaxies in underdense environments. As a
result, the low-density regions at low redshifts are populated by galaxies in earlier phases
of evolution than galaxies in high-density regions.