Identification and characterisation of a novel adhesin of Streptococcus suis and its use as a target of adhesion inhibition and bacterial detection
Kouki, Annika (2012-11-16)
---
Identification and characterisation of a novel adhesin of Streptococcus suis and its use as a target of adhesion inhibition and bacterial detection
(16.11.2012)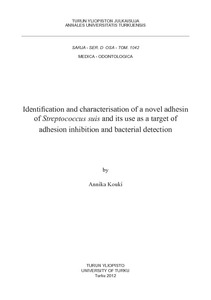 Annales Universitatis Turkuensis D 1042 Turun yliopisto
Julkaisun pysyvä osoite on:
https://urn.fi/URN:ISBN:978-951-29-5194-9
Kuvaus
Siirretty Doriasta
Tiivistelmä
Streptococcus suis is an important pig pathogen but it is also zoonotic, i.e. capable of causing
diseases in humans. Human S. suis infections are quite uncommon but potentially life-threatening
and the pathogen is an emerging public health concern. This Gram-positive bacterium possesses a
galabiose-specific (Galalpha1−4Gal) adhesion activity, which has been studied for over 20 years.
P-fimbriated Escherichia coli−bacteria also possess a similar adhesin activity targeting the same disaccharide.

The galabiose-specific adhesin of S. suis was identified by an affinity proteomics method. No
function of the protein identified was formerly known and it was designated streptococcal adhesin P
(SadP). The peptide sequence of SadP contains an LPXTG-motif and the protein was proven to be
cell wall−anchored. SadP may be multimeric since in SDS-PAGE gel it formed a protein ladder
starting from about 200 kDa. The identification was confirmed by producing knockout strains
lacking functional adhesin, which had lost their ability to bind to galabiose. The adhesin gene was
cloned in a bacterial expression host and properties of the recombinant adhesin were studied. The
galabiose-binding properties of the recombinant protein were found to be consistent with previous
results obtained studying whole bacterial cells. A live-bacteria application of surface plasmon
resonance was set up, and various carbohydrate inhibitors of the galabiose-specific adhesins were
studied with this assay. The potencies of the inhibitors were highly dependent on multivalency.
Compared with P-fimbriated E. coli, lower concentrations of galabiose derivatives were needed to
inhibit the adhesion of S. suis. Multivalent inhibitors of S. suis adhesion were found to be effective
at low nanomolar concentrations. To specifically detect galabiose adhesin−expressing S. suis
bacteria, a technique utilising magnetic glycoparticles and an ATP bioluminescence bacterial
detection system was also developed.

The identification and characterisation of the SadP adhesin give valuable information on the
adhesion mechanisms of S. suis, and the results of this study may be helpful for the development of
novel inhibitors and specific detection methods of this pathogen.