The Sedimentology, Ichnology and Hydrogeochemistry of the Late Miocene, Marginal Marine, Upper Pebas and Nauta Formations, Amazonian Foreland Basin, Peru
Rebata Hernani, Luisa Amparo (2012-12-14)
---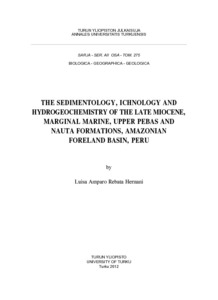 Rebata Hernani, Luisa Amparo
Turun yliopisto Annales Universitatis Turkuensis A II 275
14.12.2012
Julkaisun pysyvä osoite on:
http://urn.fi/URN:ISBN:978-951-29-5217-5
Kuvaus
Siirretty Doriasta
Tiivistelmä
This thesis includes detailed sedimentological and ichnological studies on two geological units: the Pebas Formation, with a special focus in its informal upper member, and the Nauta Formation. Both formations were deposited during the Miocene in Northeastern Peruvian Amazonia, in the Amazon retroarc foreland basin. The Pebas and Nauta successions mainly consist of non-consolidated, clastic sedimentary deposits arranged into sand- to mud-dominated heterolithic successions, which can be upward-coarsening to upward-fining. Sediments in both the Pebas and Nauta successions range from mud to fine- to medium-grained sand. The main facies observed were 1) mud-dominated horizontal heterolithic couplets; 2) rooted brownish mud; 3) lenticular, mud-draped, cross-stratified sand; 4) mud- to sand-dominated, inclined heterolithic stratification; 5) sand-dominated horizontal heterolithic couplets; and 6) mud-draped, trough cross-stratified sand. Locally, tidal rhythmites were documented. The facies are interpreted as: 1) muddy, shallow, subaqueous flats/shoals; 2) palaeosols; 3) secondary tidal channels or run-off creeks; 4) tidally influenced point bars; 5) shoreface deposits; and 6) subtidal compound dunes. Thalassinoides-dominated Glossifungites ichnofacies, low-diversity expressions of the Skolithos ichnofacies and depauperate suites consisting of elements common to the Cruziana ichnofacies strongly indicate brackish-water conditions. However, continental trace fossil assemblages, with possible elements common to the Scoyenia ichnofacies, have also been identified. In addition to the palaeoenvironmental study, a local hydrogeochemical characterisation of the Pebas and Nauta formations was also conducted. The geochemistry of the groundwaters reflects the characteristics and the soil geochemistry of the geological formations studied. The Pebas formation has low hardness, acid to neutral waters, whereas the upper Pebas has high hardness, acid to neutral waters. In both units, the arsenic content is locally high. The Nauta formation has low hardness acid groundwaters. A regional review of the Pebas and Nauta formations placed the local observations into a continental perspective and suggests that the whole Pebas-Nauta system was a probably shallow (some tens of metres at maximum), brackish- to freshwater, tidally-influenced epicontinental embayment with a probable semi-diurnal to mixed tidal regime and a microtidal range, surrounded by continental environments such as forest floors, lagoons, rivers and their flood plains, and lakes.