On Dynamic Monitoring Methods for Networks-on-Chip
Rantala, Ville (2012-12-12)
---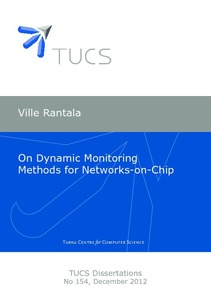 Turku Centre for Computer Science
12.12.2012
Julkaisun pysyvä osoite on:
http://urn.fi/URN:ISBN:978-952-12-2823-0
Kuvaus
Siirretty Doriasta
Tiivistelmä
Rapid ongoing evolution of multiprocessors will lead to systems with hundreds of processing cores integrated in a single chip. An emerging challenge is the implementation of reliable and efficient interconnection between these cores as well as other components in the systems. Network-on-Chip is an interconnection approach which is intended to solve the performance bottleneck caused by traditional, poorly scalable communication structures such as buses. However, a large on-chip network involves issues related to congestion problems and system control, for instance. Additionally, faults can cause problems in multiprocessor systems. These faults can be transient faults, permanent manufacturing faults, or they can appear due to aging. To solve the emerging traffic management, controllability issues and to maintain system operation regardless of faults a monitoring system is needed. The monitoring system should be dynamically applicable to various purposes and it should fully cover the system under observation. In a large multiprocessor the distances between components can be relatively long. Therefore, the system should be designed so that the amount of energy-inefficient long-distance communication is minimized.

This thesis presents a dynamically clustered distributed monitoring structure. The monitoring is distributed so that no centralized control is required for basic tasks such as traffic management and task mapping. To enable extensive analysis of different Network-on-Chip architectures, an in-house SystemC based simulation environment was implemented. It allows transaction level analysis without time consuming circuit level implementations during early design phases of novel architectures and features.

The presented analysis shows that the dynamically clustered monitoring structure can be efficiently utilized for traffic management in faulty and congested Network-on-Chip-based multiprocessor systems. The monitoring structure can be also successfully applied for task mapping purposes. Furthermore, the analysis shows that the presented in-house simulation environment is flexible and practical tool for extensive Network-on-Chip architecture analysis.