Applications of Industrial Statistics
Kankaanranta, Jarno (2012-12-21)
---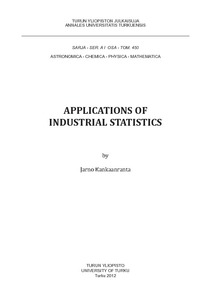 Turun yliopisto Annales Universitatis Turkuensis A I 450
21.12.2012
Julkaisun pysyvä osoite on:
http://urn.fi/URN:ISBN:978-951-29-5230-4
Kuvaus
Siirretty Doriasta
Tiivistelmä
This dissertation examines knowledge and industrial knowledge creation
processes. It looks at the way knowledge is created in industrial processes
based on data, which is transformed into information and finally into
knowledge. In the context of this dissertation the main tool for industrial
knowledge creation are different statistical methods.

This dissertation strives to define industrial statistics. This is done using an
expert opinion survey, which was sent to a number of industrial statisticians.
The survey was conducted to create a definition for this field of applied statistics
and to demonstrate the wide applicability of statistical methods to industrial
problems. In this part of the dissertation, traditional methods of industrial
statistics are introduced. As industrial statistics are the main tool for
knowledge creation, the basics of statistical decision making and statistical
modeling are also included.

The widely known Data Information Knowledge Wisdom (DIKW) hierarchy
serves as a theoretical background for this dissertation. The way that data is
transformed into information, information into knowledge and knowledge
finally into wisdom is used as a theoretical frame of reference. Some scholars
have, however, criticized the DIKW model. Based on these different perceptions
of the knowledge creation process, a new knowledge creation process,
based on statistical methods is proposed.

In the context of this dissertation, the data is a source of knowledge in industrial
processes. Because of this, the mathematical categorization of data into
continuous and discrete types is explained. Different methods for gathering
data from processes are clarified as well. There are two methods for data
gathering in this dissertation: survey methods and measurements.

The enclosed publications provide an example of the wide applicability of
statistical methods in industry. In these publications data is gathered using
surveys and measurements. Enclosed publications have been chosen so that
in each publication, different statistical methods are employed in analyzing
of data. There are some similarities between the analysis methods used in the
publications, but mainly different methods are used.

Based on this dissertation the use of statistical methods for industrial
knowledge creation is strongly recommended. With statistical methods it is
possible to handle large datasets and different types of statistical analysis results
can easily be transformed into knowledge.