Intellectual Property Protection in China in the Cases of Outsourcing and own Manufacturing
Cao, Qing; Ketolainen, Mari (2013-01-11)
---
Intellectual Property Protection in China in the Cases of Outsourcing and own Manufacturing
Cao, Qing
Ketolainen, Mari
(11.01.2013)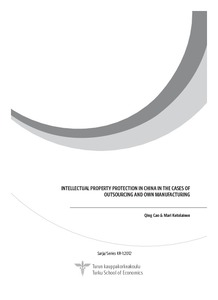 Turun yliopisto
Julkaisun pysyvä osoite on:
https://urn.fi/URN:ISBN:978-952-249-208-1
Kuvaus
siirretty Doriasta
Tiivistelmä
The intellectual property (IP) environment in China is still very immature.
There are several problems in legal, political, economic, social-cultural,
competitive and labor environment which have hindered IP legal enforcement.
Under such circumstances, IP misappropriation is a major concern especially
for foreign small and medium-sized enterprises (SMEs) doing business in
China. These circumstances require foreign companies, no matter whether
they are multinational corporations (MNCs) or SMEs and have own
manufacturing in China or not, to take strong IP actions. Therefore, the
purpose of this study is to discuss how IP can be protected in China in the
case of outsourcing and in the case of own manufacturing.

The comparison will consider the process of outsourcing and own
manufacturing consisting two stages: preparation stage and operation stage.
In order to clarify the conceptual arguments, two illustrative case studies were
studied. The case data bases on two semi-structured interviews of the
managing directors, field notes and archival data.

The findings propose that attention in IP protection should be given to
following issues: integrating IP strategy into the company's business strategy,
protecting the most critical knowledge, regarding IP steps as a whole in the
protection mechanism and making IP strategy as proactive as possible. The
major difference between outsourcing and own manufacturing in IP protection
is in the operation stage. Besides, the findings also provide managerial advice
on IP protection, e.g. foreign managers should be prepared for IP risks in
China, they should establish an own IP protection mechanism which matches
the company's situation and they should consider IP protection as an on-going
process.