Integrins in Tumorigenesis and Cancer Cell Invasion
Högnäs, Gunilla (2013-02-08)
---
Integrins in Tumorigenesis and Cancer Cell Invasion
(08.02.2013)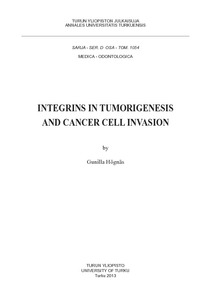 Annales Universitatis Turkuensis D 1054 Turun yliopisto
Julkaisun pysyvä osoite on:
https://urn.fi/URN:ISBN:978-951-29-5290-8
Kuvaus
Siirretty Doriasta
Tiivistelmä
The integrin family of transmembrane receptors are important for cell-matrix adhesion
and signal transmission to the interior of the cell. Integrins are essential for many
physiological processes and defective integrin function can consequently result in a
multitude of diseases, including cancer. Integrin traffic is needed for completion of
cytokinesis and cell division failure has been proposed to be an early event in the
formation of chromosomally aberrant and transformed cells. Impaired integrin traffic
and changes in integrin expression are known to promote invasion of malignant cells.
However, the direct roles of impaired integrin traffic in tumorigenesis and increased
integrin expression in oncogene driven invasion have not been examined. In this study
we have investigated both of these aspects.

We found that cells with reduced integrin endocytosis become binucleate and
subsequently aneuploid. These aneuploid cells display characteristics of transformed
cells; they are anchorage-independent, resistant to apoptosis and invasive in vitro.
Importantly, subcutaneous injection of the aneuploid cells into athymic nude mice
produced highly malignant tumors. Through gene expression profiling and analysis of
integrin-triggered signaling pathways we have identified several molecules involved in
the malignancy of these cells, including Src kinase and the transcription factor Twist2.
Thus, even though chromosomal aberrations are associated with reduced cell fitness, we
show that aneuploidy can facilitate tumor evolution and selection of transformed cells.
Invasion and metastasis are the primary reason for deaths caused by cancer and the
molecular pathways responsible for invasion are therefore attractive targets in cancer
therapy. In addition to integrins, another major family of adhesion receptors are the
proteoglycans syndecans. Integrins and syndecans are known to signal in a synergistic
manner in controlling cell adhesion on 2D matrixes. Here we explored the role of
syndecans as α2β1 integrin co-receptors in 3D collagen. We show that in breast cancer
cells harbouring mutant K-Ras, increased levels of integrins, their co-receptors
syndecans and matrix cleaving proteases are necessary for the invasive phenotype of
these cells.

Together, these findings increase our knowledge of the complicated changes that occur
during tumorigenesis and the pathways that control the ability of cancer cells to invade
and metastasize.