Theorizing Formal and Informal Feedback Practices in Management Accounting Through Three Dimensions
Pitkänen, Hanna (2013-04-05)
---
Theorizing Formal and Informal Feedback Practices in Management Accounting Through Three Dimensions
(05.04.2013)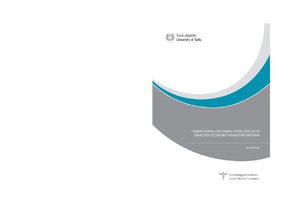 Turun yliopisto
Julkaisun pysyvä osoite on:
https://urn.fi/URN:ISBN:978-952-249-251-7
Kuvaus
siirretty Doriasta
Tiivistelmä
The purpose of this doctoral thesis is to widen and develop our theoretical frameworks for discussion and analyses of feedback practices in management accounting, particularly shedding light on its formal and informal aspects. The concept of feedback in management accounting has conventionally been analyzed within cybernetic control theory, in which feedback flows as a diagnostic or comparative loop between measurable outputs and pre-set goals (see e.g. Flamholtz et al. 1985; Flamholtz 1996, 1983), i.e. as a formal feedback loop. However, the everyday feedback practices in organizations are combinations of formal and informal elements. In addition to technique-driven feedback approaches (like budgets, measurement, and reward systems) we could also categorize social feedback practices that managers see relevant and effective in the pursuit of organizational control. While cybernetics or control theories successfully capture rational and measured aspects of organizational performance and offer a broad organizational context for the analysis, many individual and informal aspects remain vague and isolated. In order to discuss and make sense of the heterogeneous field of interpretations of formal and informal feedback, both in theory and practice, dichotomous approaches seem to be insufficient. Therefore, I suggest an analytical framework of formal and informal feedback with three dimensions (3D's): source, time, and rule. Based on an abductive analysis of the theoretical and empirical findings from an interpretive case study around a business unit called Division Steelco, the 3Dframework and formal and informal feedback practices are further elaborated vis-á-vis the four thematic layers in the organizational control model by Flamholtz et al. (1985; Flamholtz 1996, 1983): core control system, organizational structure, organizational culture, and external environment. Various personal and cultural meanings given to the formal and informal feedback practices ("feedback as something") create multidimensional interpretative contexts. Multidimensional frameworks aim to capture and better understand both the variety of interpretations and their implications to the functionality of feedback practices, important in interpretive research.