Detection of Pathologic Changes Following Traumatic Brain Injury Using Magnetic Resonance Imaging
Brandstack, Nina (2013-04-05)
---
Detection of Pathologic Changes Following Traumatic Brain Injury Using Magnetic Resonance Imaging
(05.04.2013)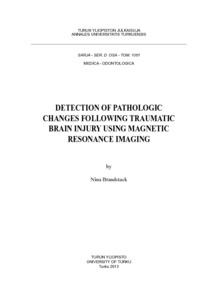 Annales Universitatis Turkuensis D 1061 Turun yliopisto
Julkaisun pysyvä osoite on:
https://urn.fi/URN:ISBN:978-951-29-5340-0
Kuvaus
Siirretty Doriasta
Tiivistelmä
Background: Approximately two percent of Finns have sequels after traumatic brain injury (TBI), and many TBI patients are young or middle-aged. The high rate of unemployment after TBI has major economic consequences for society, and traumatic brain injury often has remarkable personal consequences, as well. Structural imaging is often needed to support the clinical TBI diagnosis. Accurate early diagnosis is essential for successful rehabilition and, thus, may also influence the patient's outcome. Traumatic axonal injury and cortical contusions constitute the majority of traumatic brain lesions. Several studies have shown magnetic resonance imaging (MRI) to be superior to computed tomography (CT) in the detection of these lesions. However, traumatic brain injury often leads to persistent symptoms even in cases with few or no findings in conventional MRI.

Aims and methods: The aim of this prospective study was to clarify the role of conventional MRI in the imaging of traumatic brain injury, and to investigate how to improve the radiologic diagnostics of TBI by using more modern diffusion-weighted imaging (DWI) and diffusion tensor imaging (DTI) techniques. We estimated, in a longitudinal study, the visibility of the contusions and other intraparenchymal lesions in conventional MRI at one week and one year after TBI. We used DWI-based measurements to look for changes in the diffusivity of the normal-appearing brain in a case-control study. DTI-based tractography was used in a case-control study to evaluate changes in the volume, diffusivity, and anisotropy of the long association tracts in symptomatic TBI patients with no visible signs of intracranial or intraparenchymal abnormalities on routine MRI. We further studied the reproducibility of different tools to identify and measure white-matter tracts by using a DTI sequence suitable for clinical protocols.

Results: Both the number and extent of visible traumatic lesions on conventional MRI diminished significantly with time. Slightly increased diffusion in the normal-appearing brain was a common finding at one week after TBI, but it was not significantly associated with the injury severity. Fractional anisotropy values, that represent the integrity of the white-matter tracts, were significantly diminished in several tracts in TBI patients compared to the control subjects. Compared to the cross-sectional ROI method, the tract-based analyses had better reproducibility to identify and measure white-matter tracts of interest by means of DTI tractography.

Conclusions: As conventional MRI is still applied in clinical practice, it should be carried out soon after the injury, at least in symptomatic patients with negative CT scan. DWI-related brain diffusivity measurements may be used to improve the documenting of TBI. DTI tractography can be used to improve radiologic diagnostics in a symptomatic TBI sub-population with no findings on conventional MRI. Reproducibility of different tools to quantify fibre tracts vary considerably, which should be taken into consideration in the clinical DTI applications.